Collection: Star Wars [Saga - Phase I]
Number: '02 #35
Availability: May 2002
License: Hasbro
Visual Analysis
Detailed Visual Analysis
General Analysis
Ten years after the fight to save Naboo from invasion, the galaxy is on the brink of civil war. Under the leadership of a renegade Jedi, thousands of solar systems threaten to secede from the Galactic Republic. A courageous Jedi Knight, his impulsive and headstrong apprentice, and a queen-turned-senator are drawn into the heart of the conflict... and the beginning of war.
Orn Free Taa
A Rutian Twi'lek, Senator Orn Free Taa has succumbed to a decadent lifestyle on Coruscant. Treating politics as sport, he uses his position to indulge his extravagant impulses.
Not too many of us expected to see a corpulent Twi'lek in the Prequel Trilogy that supported Palpatine, did we? But we did when Orn Free Taa was introduced to us as an essential consultant to Chancellor Palpatine. Making his first appearance in Star Wars Episode I: The Phantom Menace, he had a "larger" role (pun intended) in Star Wars Episode II: Attack Of The Clones. Originally hailing from Ryloth, Taa was a member of the Allocations and Appropriations Committees and was one of the first members of the Loyalist Committee. He is perhaps most notable for his role as a Militarist in the Separatist Crisis, which ironically was the force behind the havoc wreaked on his home planet. He hypocritically supported the Military Creation Act. That philosophy was counter to his peoples' cultural belief system and the Twi'leks' overall disdain for violence. At this point, he recommended to Palpatine to negotiate with Count Dooku to help set things up right before the Clone Wars began. Possessing a vital role in the Star Wars saga, Hasbro saw him as a viable candidate for the basic figure line. Thankfully he came out pretty well. Hasbro added Orn Free Taa to the Star Wars "Saga" line, and it's the character's debut as an action figure. Overall, it's a nice figure, but it isn't without some issues.
Orn Free Taa is a simply articulated action figure, but there is a lot of detail on the figure that will likely go unnoticed. We would never claim that it is the most outstanding action figure that Hasbro has ever produced. No, Orn Free Taa doesn't even come close, but there are aspects of the figure that will go underappreciated or completely ignored, as we have just expressed. Pretty much immovable, Orn Free Taa's strengths lay in the sculpt. The figure has an excellent likeness, and the costume is exceptionally ornate and flashy, almost to the point of being gaudy. There are multiple layers in the costuming, and Hasbro did a fine job translating that into three-dimensions and on such a small scale. Essentially Orn Free Taa has swivel arms and elbows as that's the only functional movement you'll get out of it, but it does have articulation elsewhere that is inhibited thanks to the character's design and robes. Orn Free Taa has distinct white markings in the blue skin, especially on the face. Variations exist when it comes to the deco on the figure's face. Some have a "dirty" wash, while others are bright blue, and some appear a little too one-dimensional and "clean." Orn Free Ta doesn't lack much realism, however. And collectors should be satisfied with this action figure.
Orn Free Taa comes with a pretty cool accessory. While not new to the basic figure line, the senate hovercam comes in two parts: the actual hovercam and the "invisible" display stand that holds it up in the air. It may be a gimmick, but the clear plastic stand on which it sits works better than expected. After all, these "droids" look stupid when lying on the ground. They are much more effective at an action figure's eye level. Orn Free Taa can only move his arms slightly up and down and point and wave, but that's all he needs to do anyway. If you're a fan of the senate's various scenes, then this is an action figure for you. Orn Free Ta is a character who speaks little verbiage. However, the character's commanding presence always seems to score him a lady or two. As an action figure in the Star Wars "Saga" line, there is no denying that he was executed well and looks great in your collection. But "interesting" is not a word to describe him, and he likely will not resonate with everyone that well. We like this action figure very much, and, likely, Hasbro will never attempt Orn Free Taa again. That's OK because they produced a ton of the action figure, as evidenced by its peg-warming status. Don't forget this for variation hunters: Hasbro released two unique versions of this figure. One version has white paint added to the eyes and teeth, while the other version does not, and the facial skin color varies from bright blue to blue with a tan wash.
Collector Notes
Orn Free Taa
Status: Orn Free Taa is an all-new figure.
Articulation Count: 9 points (9 areas of articulation)
Articulation Details: swivel head (1) (inhibited movement), swivel left shoulder (1) (inhibited movement), swivel right shoulder (1) (inhibited movement), swivel left elbow (1), swivel right elbow (1), swivel left wrist (1), swivel right wrist (1), swivel left leg (1) (inhibited movement), swivel right leg (1) (inhibited movement)
Accessory Count: 2
Accessory Details: hovercam, hovercam stand
Date Stamp: 2002
Collection: 2
Assortment Number: 84804/84861
UPC: 076930848043
Retail: $4.99 USD
Market Value: Click here to check the latest prices based on

listings.
Reference Data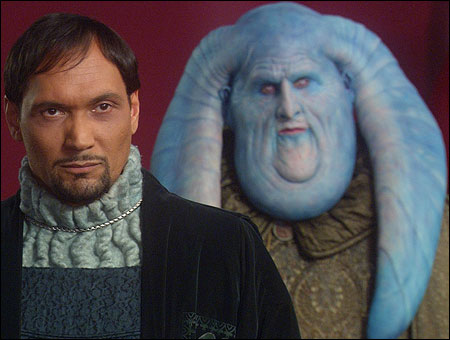 Research Droids Data Analysis
Related Data Files