Collection: Star Wars [Saga - Phase I]
Number: '02 #24
Availability: April 2002
License: Hasbro
Visual Analysis
Detailed Visual Analysis
General Analysis
Ten years after the fight to save Naboo from invasion, the galaxy is on the brink of civil war. Under the leadership of a renegade Jedi, thousands of solar systems threaten to secede from the Galactic Republic. A courageous Jedi Knight, his impulsive and headstrong apprentice, and a queen-turned-senator are drawn into the heart of the conflict... and the beginning of war.
Jar Jar Binks
Now a Senate representative from Naboo, Jar Jar wears the elaborate Gungan outfit deemed proper for the ceremonial grandeur of the Senate. In a twist of fate, Jar Jar is manipulated to propose the motion that gives Chancellor Palpatine the powers of an emperor.
Haters of Jar Jar Binks haters received the shock of their lives when Star Wars Episode II: Attack Of The Clones revealed that the Gungan became the Senator of Naboo. But more importantly, a better reason to loathe this character would be that his motion in the senate gave Supreme Chancellor Palpatine the powers of an Emperor, ultimately wreaking havoc on the universe. Due to the character's controversial addition and relative popularity in Episode I, Hasbro quickly added the Episode II version of Jar Jar Binks to the Star Wars "Saga" basic figure line. They produced Jar Jar Binks (Gungan Senator) mostly prepositioned, and the figure has little play value. Sure, it comes with a few points of articulation. Also, it comes with an electropole and electric bolt effect accessory combination (presumably from a deleted scene). However, the figure is not much more than a salt or pepper shaker. Because of this, the figure will lose its luster over time. Hasbro didn't release soft goods on many 2002-era Star Wars "Saga" figures, and Jar Jar Binks (Gungan Senator) could have benefitted from this inclusion.
What is most perplexing and borderline annoying about Jar Jar Binks (Gungan Senator) is the twisted position. The figure looks unnatural, and the sculpt looks contrived. Even if Hasbro had decided to include some extra points of articulation, they would be useless thanks to the odd sculpt. There is something to be said about a solid plastic tool. The robes look flowing and honestly believable. But what Star Wars character would stay in the pretzel-like position Jar Jar Binks remains in as long as you have the figure displayed? The intent to have a Jar Jar Binks-as-a-senator action figure was to present it in a more conservative posture and serious demeanor so that the many who dislike the character would appreciate him more. Unfortunately, that backfired with the pose Hasbro chose here. Jar Jar Binks' role in Episode II showed a less hyper version of the Gungan, but the character still blabbered on and remained unable to articulate his points and feelings fully. Unless you have unconditional love for Jar Jar Binks, you're probably not going to add this action figure to your collection. You'll need to be the judge yourself.
As much as it pains us to say this, we would like to see Hasbro revisit this character one day in soft goods and with a super-articulated body. In all honesty, this presentation of Jar Jar Binks (Gungan Senator) doesn't do much to shed new and positive light on the character. Then again, the film fails at establishing that too. We believe that Hasbro failed a little bit more and presented what we interpret as another slapstick freeze-frame of a character that is very hard to appreciate. We are receptive to seeing some characters in the Star Wars "Saga" line turn out statuesque due to the way their costumes are (like many of the robed characters), but Jar Jar Binks (Gungan Senator) is not an example to be followed. We do believe, however, if done right, that an all-new interpretation of this character would be a success. Hasbro needs to find the proper approach and lock down the design. Then and only then will we get a decent take of this character in the Hasbro Star Wars basic figure line. It is worth noting that Hasbro chose the incorrect reference image showing a different outfit on the figure's packaging.
Collector Notes
Jar Jar Binks (Gungan Senator)
Status: Jar Jar Binks (Gungan Senator) is an all-new figure.
Articulation Count: 7 points (7 areas of articulation)
Articulation Details: swivel head (1), swivel left shoulder (1), swivel right shoulder (1), swivel right elbow (1), swivel left wrist (1), swivel left knee (1), swivel right knee (1)
Accessory Count: 2
Accessory Details: electropole, electroshock effect
Date Stamp: 2002
Collection: 1
Assortment Number: 84821/84861
UPC: 076930848210
Retail: $4.99 USD
Market Value: Click here to check the latest prices based on

listings.
Reference Data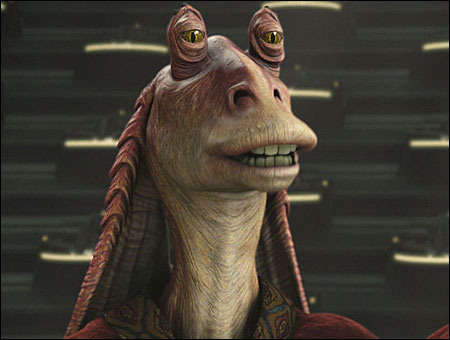 Research Droids Data Analysis
Related Data Files