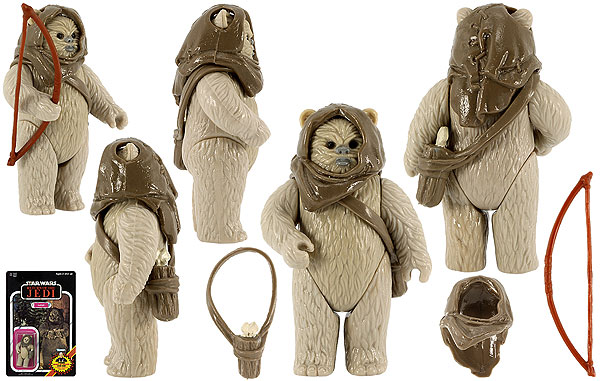 There were two Ewok figures from Kenner's RETURN OF THE JEDI line that snuck out to retail that many collectors didn't know of until much too late. I, thankfully, wasn't one of those young collectors in 1984. Like a hawk, I stalked store shelves looking for the "latest and greatest" Star Wars figures so I could complete my action figure collection. Lumat and Paploo made up the third wave of RETURN OF THE JEDI figures and are the only two figures in the line dubbed as 79-Back figures. Labeled initially with the name EWOK WARRIOR, it took time before Kenner upgraded his name to Lumat across the entire Kenner and Palitoy lines. I loved Lumat as a kid, and I thought it was incredible for an Ewok to come with a bow and a quiver full of arrows. One summer break in the mid-nineties while attaining my Bachelor's degree at Rutgers University, I took a trip out to northeastern PA (before I lived there) in the country and went antique window shopping. Much to my surprise in a locked display cabinet next to some rather old-looking PEZ dispensers were perfectly mint carded Lumat and Paploo figures (each in THE POWER OF THE FORCE packaging with coins). I had them for years until I realized I didn't care about carded figures anymore and sold them on eBay. I wonder what Star Wars collector owns them now?
Hasbro's Most Definitive Modern Counterpart: 2012's THE VINTAGE COLLECTION Lumat (VC104) figure.
Name: Lumat
Alternate Name: Ewok Warrior
Collection: Return Of The Jedi
Source: Return Of The Jedi
Release: 1984
Status: Lumat is an all-new figure.
Assortment: No. 93670
UPC: N/A
Retail: $2.99 USD
Alternate Card Art Details:
• Lumat Ewok Warrior (Figurine Guerriere Ewok)

• Trilogo

• Character name pill and figure backer are lime green.
Market Value: Click here to check the latest prices based on

listings.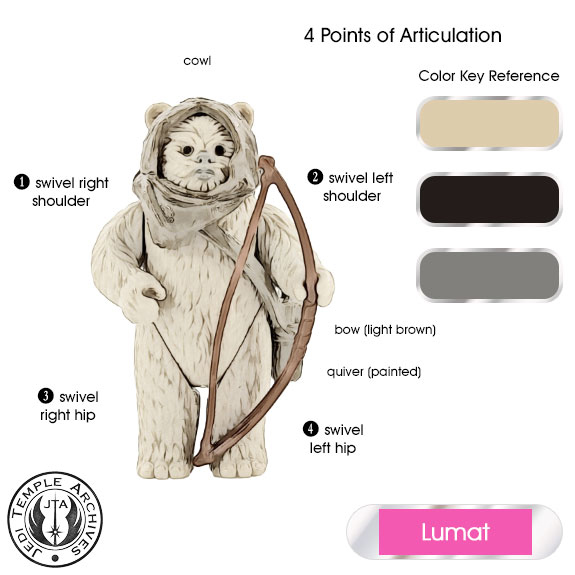 Figure Release Information
Major Figure Variations (loose): None
U.S. Card Back Release Information (confirmed to exist)
U.S. Card Back information derived from the Kellerman Book Matrices and confirmed samples
Research Droids Data Analysis