The Clone Wars
I finally catch up with season 7 of The Clone Wars. Today I talk about the latest episode from Friday. And it turns out it's somewhat controversial. Not because of what happens in the episode, but because of what was cut from the episode. It turns out the episode has an extremely short runtime of just 18 minutes. An entire scene, running for almost 3 minutes, was removed from the old animatic, in it Wat Tambor tests a new kind of droid on a native and has him killed. What makes matters even more odd is that Lucasfilm has now begun to either delete or copyright claim the old animatics. Most copies of the videos on YouTube are gone, they were also removed (the Utapau arc and the Bad Batch arc) from Starwars.com. Why? No one really knows. They had been online for years, without any issues. Some believe Lucasfilm wants to prevent fans from comparing the old animatics to the finalized versions. But is that really so? All of that somewhat overshadows episode 3, which is unfortunate. Read my review to learn more about episode 3 and the discussion surrounding it!
The Clone Wars are back! One week late I will begin to review all the new episodes here on JTA. Today I will talk about the first episode of season 7, on Tuesday or so I will talk about the second episode of season 7 and from then on I will review each new episode over the weekend.
In "The Bad Batch", the Separatists give the Republic a hard time on the planet of Anaxes as they capture very important shipyards. Captain Rex cannot really explain why and how the Droid Army can so easily adapt to all of his plans. Thus he wants to gather some intel behind enemy lines. But he won't do it alone, in addition to some regular clones and Captain Cody the "Bad Batch", a very special team of very special clones, will join them. Click through for the spoiler review of "The Bad Batch"!
This week, EA games announced (finally) that they would be adding instant action to Battlefront II. That's the best part of the old Battlefront games in my humble opinion, so I'm extremely excited for the addition to the new games. Now I just need an Xbox One or a gaming PC….. Anyway. The other new addition to the game are Clone Commandos. With Clone Wars on its way next year on Disney+, it got me thinking: Hasbro really needs to make an all-new clone commando in TVC and TBS and re-use the heck out of it with different color schemes. Click through for a review on the clone commando figures we've gotten thus far!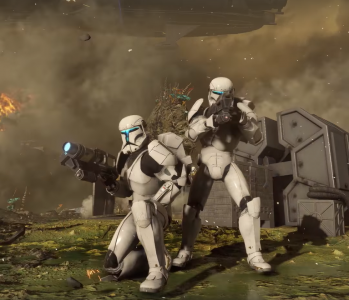 -Click HERE to return to the home page-