Super7
Hurry! Super7's SDCC exclusives are available! Special thanks to JTA reader Glenn W. and Russ for the alerts!
Super 7 is releasing another excellent exclusive this year, in line with their previous Alien Hammerhead figure. This year it's Kenner 1985 The Power Of The Force packaging with a 5POA Metropolis Maria as the featured figure. Awesome! Too bad Hasbro doesn't do a whole line of never-produced POTF Retro Collection figures like this! Imagine a POTF Bossk, POTF IG-88, POTF Luke Bespin. It will never happen as the line continually gets squandered. Any way, check out Super 7's Facebook page for more
The San Diego Comic-Con exclusive Super7 Hammerhead Xenomorph is available to order RIGHT NOW! Special thanks to JTA reader Glen W. for the notice!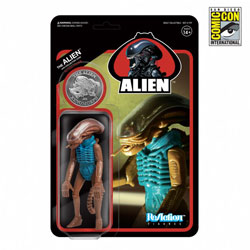 -Click HERE to return to the home page-