Return of the Jedi 40th Anniversary Poster Available At DMI
Hurry! This will probably sell out fast! The Return of the Jedi 40th Anniversary double-sided one-sheet is now available at Disney Movie Insiders for 400 points. 
If you don't have enough points, you can pick some up on eBay! 
Update: While today's Wins Day allotment is out, there will be a small allotment available again tomorrow starting at 12 PM Eastern in celebration of the 40th Anniversary of Return of the Jedi. If you slept on today's release, you'd better be ready tomorrow!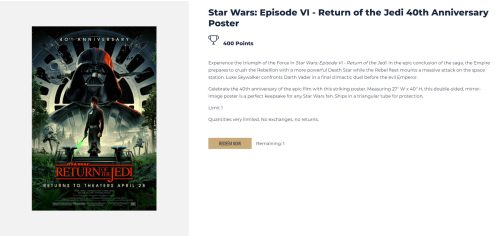 Related Links
-Click HERE to return to the home page-