There has been an awakening to the reality of the horrible state of Star Wars (which has been this way for quite some time). Even Thomas, the man in perpetual denial about the state of the IP and merchandising, wrote two recent articles, finally admitting how dreadful things are. They were so accurate and sharp that readers thought they were mine. I digress. In one of those articles' discussions, I mentioned that Star Wars is metaphorically Bernie Lomax from "Weekend At Bernie's." Then, for fun, I began Googling images of the film and became astounded when I found a still which allowed me to create the most flawless meme of the condition of the IP and hobby. This is the next "Distracted Boyfriend" meme, y'all. (more….)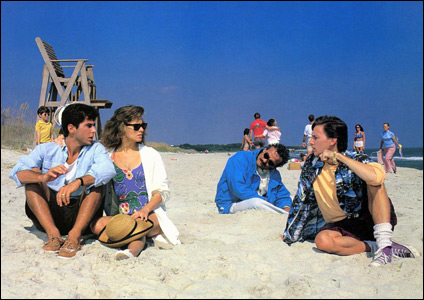 OK. Look at the meme and its captions carefully. You can click the image below to make it bigger.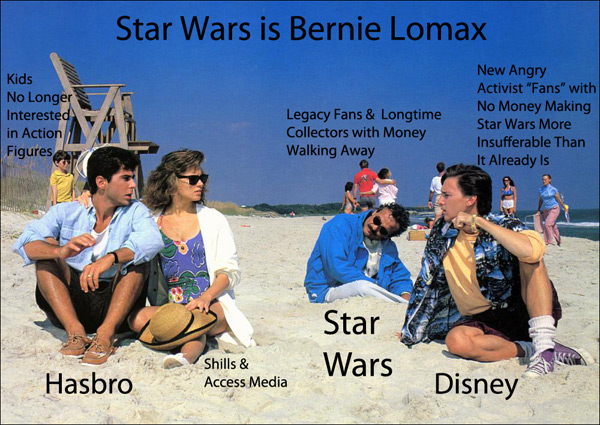 Star Wars is Bernie Lomax. That's easy. But look at where Bernie is "sitting" in relation to Disney and Hasbro. It's sitting in the back of and away from them. That's an important distinction here. It's a prop being used to get what they want. In the film, Larry Wilson and Richard Parker use and abuse Bernie's rotting corpse so they can ride his coattails: a beautiful home in the Hamptons, parties of debauchery, beautiful women, money, etc. There is no true love for Bernie. They use him (and his dead body) to further their agendas. Isn't that what Hasbro and Disney are doing with Star Wars? They don't care about Star Wars on the level we do (or did). It's a marketing vehicle to make money. They are using and abusing it.
To the (your) right (his left), you see Gwen Saunders next to Richard Parker. She is his love interest in the film. We've seen repeatedly that Hasbro only likes working with the media and shills that stroke their ego and obey what they say. Look how tightly she holds onto Richard (and is sometimes annoyed with Larry Wilson but puts up with him to lock onto Richard. Is there a better visual of the relationships we see in this hobby? Notice that she is holding onto "Hasbro" more than she is "Star Wars." Moreover, look at how Richard and Larry look at each other. You can almost sense some disdain or unhappiness between them. In the film, they constantly argue and thwart each other's plans.
Look at the random kid, seemingly lost and alone. This character represents the current kid and Star Wars. Kids are into other things like devices and electronics, and video games. If they are into Star Wars, they likely have parents who strategically developed their interest, and this is the following metaphor. But Hasbro foolishly considers them a viable customer base for their brand.
See the family walking away from the scene with their backs turned. That's "us," folks. We're tired of waiting for Hasbro to produce what we want to see in the Hasbro Star Wars toy line. I love how the family represents people of all ages, showing us that Star Wars has been and always will be for everyone. Sadly, it also shows the population of collectors with disposable income that Hasbro chooses to ignore. For a company that needs money, they sure know how to alienate the people who want to drop money on the brand.
The you-know-whos are the other people walking into the frame with [what I see are] scowls on their faces. I will not get into it too deeply here but use your imagination. They're usually the awful people on Twitter. They typically don't have an expendable income. They hate you if you suggest that Rey wasn't the most strategic character to focus an entire Star Wars trilogy on for marketing and merchandising purposes. And they're generally miserable people that loathe anyone with a different opinion than theirs. I will leave it at that. You all know the rest.
It's a sad state of affairs. And I don't see any glimmer of hope that it will change for the better. How much more life does the brand have at the rate things are going? Anyway, let me know in the comments if Star Wars is a rotting corpse and if Hasbro or Disney will do anything to revive it to the state it was in before the purchase. I don't think the IP has a snowball's chance in hell, but I am a man of faith and believe anything is possible.