So here we are, the biggest Star Wars series, the biggest Disney+ series actually, is back with season 3: The Mandalorian. The series that single-handedly saved Star Wars merchandise from the abyss back in 2019.
Not too long ago a major event like this would have coincided with the reveal or even launch of several new toys and figures. But what do we get in 2023 from Hasbro? Nothing. Instead they revealed an overpriced exclusive glitterized nonsense repack. So what is going on? What are Hasbro's plans, what is the strategy when even the single most popular piece of modern Star Wars entertainment does not receive a product launch or at least a livestream with reveals featuring figures from the current season? Click through for more!
This is not about you maybe preferring original trilogy figures (and yes, updated or all new versions are missing, but that is not the point here), this is about a major Star Wars show, the most popular show on Disney+ even, not getting ANY support from Hasbro.
The season opener alone would have provided Hasbro with quite a few ideas for figures. And let's even make it easy for Hasbro, Mandalorian repaints galore:
This is an easy one, just Mandalorian repaints, there were plenty of them in the opening scene. People love Mandalorians, don't they? Hardly any new tooling is required here.
Of course there are also all new costumes and characters:
High Magistrate Karga with cape droids.
Karga's protocol droid, also an easy figure, Hasbro only needs to tool a new head!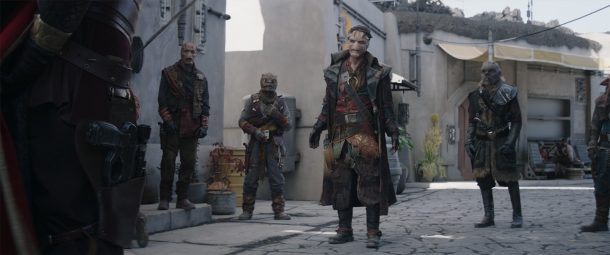 Space pirates. Perfect villains for your display. And they are all aliens.
Bo-Katan's stylish protocol / guard droid.
Now The Mandalorian is even one of the better supported shows, but even here many of the figures are released long after the fact. We are talking years here. So maybe a few of the suggested characters will be available eventually. And remember, this is not a debate about my selection of characters, you may agree or disagree with my choice, it doesn't matter really, this is about the fact that there is nothing at all from Hasbro.
So what is going on? Why does the single most important release of new Star Wars media in a long time receive zero support? Why are there no reveals, why is there no product launch that coincides with the release date of the third season?
Can Hasbro no longer afford to make actual new figures with all new tooling? Do retailers no longer order toys from them because their warehouses are still overflowing with inventory (as is suggested by analysts and which is apparently one reason the fourth quarter of 2022 was a disaster for Hasbro).
No matter what the reasons are: the fact that there is literally nothing for The Mandalorian season 3 is alarming. You can't sell anything if there is no new product. And to reveal some obscenely overpriced shiny repack instead seems to be very tone-deaf.
Hasbro could even be cheap and as I suggested at least release/reveal repainted Mandos or yet another Grogu repack with three repainted Babu Friks and maybe throw in a retooled IG-11 torso. Something. Anything. Is The Mandalorian not the most watched and most popular series on Disney+? The most popular modern Star Wars we have?
If even that cannot get a decent support with an actual wave or two of figures then what can? Why even bother with Star Wars anymore, Hasbro? If your margins are so terrible that new figures become unaffordable maybe it's time to let someone take over who could easily make a decent profit with the figures, a smaller company that doesn't have to support thousands of pencil pushers and rent for fancy offices.
But what do you think? Why do you think we get literally nothing from Hasbro for The Mandalorian season 3? At least nothing that coincides with release day. Not all too long ago those release dates meant something, they created synergy, people see something on the screen and then want to buy it. Only you can't. Maybe 18 months later when people have already moved on.
Is the system broken beyond repair?