Hot Toys has revealed the next series in their Cosbi Bobblehead Collection (Series 3). These are a fun take on the bobblehead tradition. Click through to check out the entire series.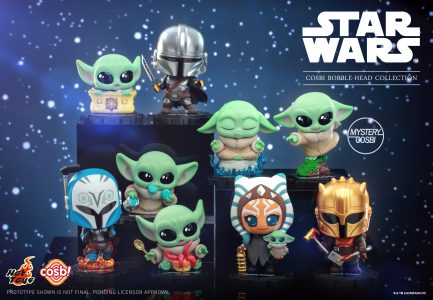 Star Wars: The Mandalorian™ Cosbi Bobble-Head Collection Series 3 (CBX093)
~ Cosbi Series~
When The Mandalorian was first introduced to us in 2019, we have been bound together by the force in it since. Presented to you the Star Wars Cosbi series 3, featuring the beloved icons of the series. It is THE Cosbi collection for you to show your Mandalore pride.
The Star Wars Cosbi Bobble-Head Collection (Series 3) features Mandalorian wielding the Darksaber, the heart-moving Ahsoka-and-Grogu bond, Bo-Katan flying with the jetpack shooting her target, the Armorer holding a piece of Beskar with her forging tools. Five different Grogu have reserved their place in this collection as well! There are Grogu munching cookie, Grogu in a satchel bag, Grogu ready to drink his chowder, Grogu meditating on the Seeing Stone and Grogu trying to balance by mastering the force as the Mystery Cosbi. Each random package box includes an approximately 6 – 9 cm tall Cosbi collectible of your favorite characters, a special collection card, and a connectable puzzle base, comes sealed in a foil bag and blind boxed to preserve the rarity and collectability of the series. Available in selected markets only.
Let the new journey begin and the excitement continue in the Way of the Mandalore, along with your new Star Wars Cosbi Collection!
Star Wars Cosbi Bobble-Head Collection (Series 3) special features:
Star Wars character in stylized Cosbi form
Approximately 6 – 9 cm tall
9 possible types to collect, including 8 characters and 1 Mystery Version
Whole set contains 8 blind boxes (no repeated figure when purchasing a whole set)
A certain chance to get the Mystery Version
Special collection cards
Each includes a connectible puzzle shaped base
Non-articulated figure with bobble-head function
Available in selected markets only
Release date:    Approximately Q2 – Q3, 2023
*Prototype shown, final product may be slightly different
**Product details could be subjected to change without further notice
© & TM Lucasfilm Ltd.
© 2023 Hot Toys Limited. All Rights Reserved.