The Hasbro Star Wars SDCC panel just ended and a few all new figures were revealed for The Black Series, as well as a ton of repaints! Click through for all the details!
Here are the new figures:
Grogu with pram and new articulated arms
Migs Mayfeld in his season 1 outfit
HK-87 with soft goods
Luke Skywalker from The Mandalorian
The figures will be avilable for pre-order tomorrow at 5 pm Eastern. Release is scheduled for spring 2023.
Here's Hasbro promo photo of all four figures in the box:
As you can see Luke and HK-87 will come in the new plastic-free box.
Then there are a ton of repaints and kitbashed figures!
First a brand new wave of the Credit Collection, six figures in total!
The Mandalorian – Amazon Exclusive, spring 2023
Bo-Katan – Shared Fan Channel, fall 2022
Ahsoka Tano – Target Exclusive, fall 2022
Boba Fett (Nomad) – Walmart Exclusive, spring 2023
Tusken Raider – Gamestop Exclusive, fall 2022
Dark Trooper deluxe figure – Pulse/Shop Disney Exclusive, fall 2022
Ahsoka will be available for pre-order on July 26th at 1 pm Eastern, all other figures tomorrow at 5 pm Eastern!
Then there's the Halloween Edition!
Clone Trooper with porg and Maz Kanata's chest, the trooper has a skeleton paint scheme, Target Exclusive, fall 2022
Wookie with Bogling, the wookie has a brand new head with werewolf ears and has the armor piece that came with Black Krrsantan, Walmart Exclusive, fall 2022
Both Halloween figures don't have a pre-order date, Hasbro believes both figures will be available on shelves in time for the holiday.
The Gaming Greats line also gets new (kitbashed/repainted) figures!
KX Security Droid (K2 repaint)
B1 Battle Droid
Both figures are sourced from the upcoming Jedi: Survivor video game and as usual these are Gametstop exclusives in the US. Pre-order is next Thursday! Release is in spring 2023!
There are also several pipeline reveals for The Black Series!
Hasbro revealed quite a few figures for the upcoming 40th anniversary Return of the Jedi line. Almost all of them are repacks of course!
Endor Leia
Endor Han
Lando Skiff Guard Disguise
Scout Trooper
Wicket (all new!)
Stormtrooper
Paploo (new-ish – first time he's available as a single figure)
Chewbacca
Bib Fortuna
Emperor Palpatine
Deluxe Boba Fett
Deluxe Endor Rebel Commando (new!) – the photo showed three commandos, among them "Rex", so maybe Hasbro plans to add several face plates and various guns, similar to the Hoth Trooper figure
On top of that there are also pipeline reveals for the regular line:
Ki Adi Mundi
The Mandalorian – all new, according to Hasbro
Black Krrsantan
And finally there will be a new Darth Vader Force FX Elite lightsaber!
Also, while some upcoming figures will still have a plastic window, most of the upcoming standard releases will come in a plastic free box!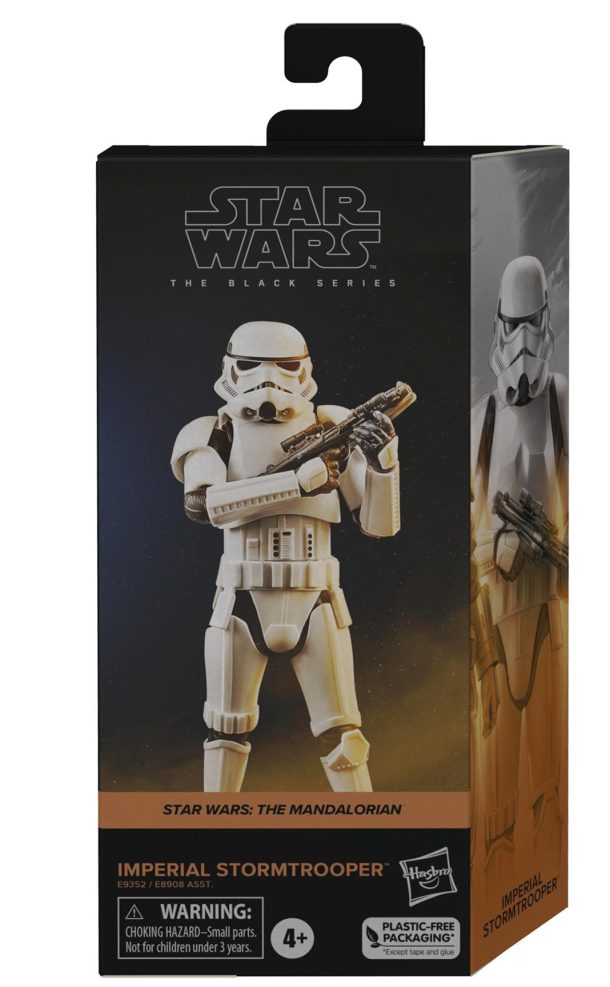 As you can see the new box has a new label that advertises the plastic-free packaging. What do you think of the design? Dimension and overall artstyle are the same as before, but now the box no longer has the plastic window and instead features a photo of the figure. Will that have an impact on your purchases?
And that's it!
What do you think? Migs Mayfeld, Hk-87 and the all new Luke are certainly great additions, but it's apparent Hasbro's strategy remains unchanged, they will release a lot of additional (as in extra) repains and kitbashes in various sublines.