Hasbro are currently holding their panel at Star Wars Celebration in Anaheim! So we can expect a few reveals in the next minutes! I will post them after the jump, so click through for everything new we learn from the panel!
UPDATE: article is now complete with ALL Black Series and Vintage Collection reveals!
We already had a few reveals today before the panel, the Black Series Grand Inquisitor and Fifth Brother were revealed on the Hasbro Pulse Facebook page.
The first relevant reveal from today's panel is the Black Series McQuarrie concept edition 2-pack featuring Obi-Wan Kenobi and Darth Vader. The only new things here are the headsculpts and the lightsabers, everything else is reuse. This will be a Shop Disney release, coming in Fall 2022.
The recently revealed Obi-Wan Kenobi (Wandering Jedi) Black Series figure will get a LO-LA59 droid accessory! That probably means there won't be a young Leia action figure.
TBS will also get a Clone Wars season 7 Robo Darth Maul! A figure many fans have waited for!
Aayla Secura is no surprise figure, she was a pipeline reveal before, but here is a first look  of an actual production sample! And look at that midriff! Very nice!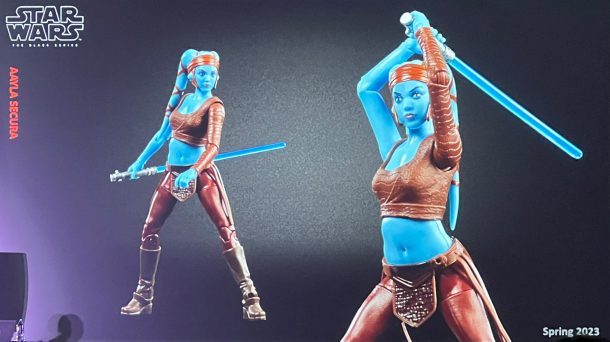 Aayla is a kitbashed figure, she reuses the legs from the Second Sister figure. But everything else seems to be brand new, I think this falls into the "smart reuse" category. And if the choice is Aayla with Second Sister legs or no Aayla I would always go for the first alternative.
Mandalorian also receives some love, TBS will get the season 2 version of Greef Karga. Maybe not the most wanted figure but the costume looks more interesting than the season 1 variant.
And the TBS reveals continue… we have Reva, the Grand Inquisitor, the Fifth Brother and now we also get the Fourth Sister, which completes the Inquisitors from the brand new Obi-Wan Kenobi series (at least the ones we have seen so far!). This is a very welcome surprise, since not only we will get a full Inquisitor team, no we also get the – until now – background Inquisitor with very little screentime so far!
The TBS Gaming Greats line will be expanded with the Riot Scout Trooper, yet another Gamestop exclusive in the US of course!
And finally here's a look at two Black Series pipeline reveals, and I believe those will excite almost all collectors. We will get Darth Malak and Bastila Shan! I can't wait to see both figures!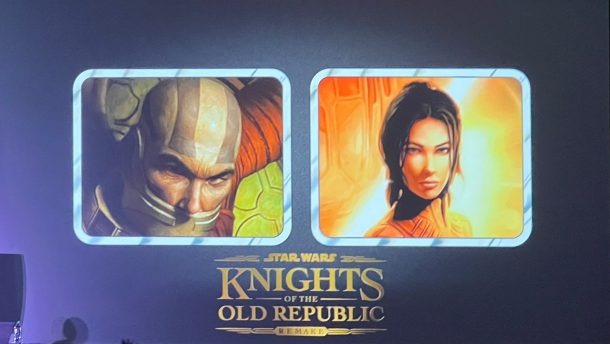 And now something for TVC collectors! More Gaming Greats figures will be added to The Vintage Collection! Namely, a three pack consisting of a Riot Scout Trooper, Magna Guard and KX Security Droid!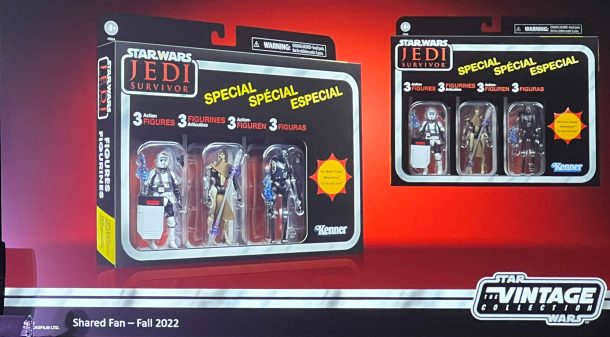 And the cardbacks:
These are for the upcoming sequel to Star Wars Jedi: Fallen Order!
Next up is the Darktrooper from The Mandalorian! A figure quite a few TVC collectors have requested!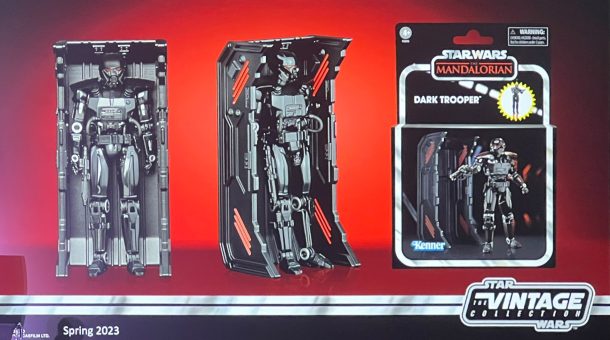 The figure comes with a loading bay. Note the plastic free packaging for this deluxe pack.
You can buy Anton Merrick, you can buy the X-Wing, now TVC collectors will also be able to add Merrick's astromech to their collection!
Troop builder packs seem to be quite popular and successful. The Vintage Collection will get a new troop builder pack with Hoth Rebel Troopers!
As you can see the pack will be released next year in spring and it will be a Pulse / Disney Shop exclusive in the US.
And finally here are three Vintage Collection pipeline reveals!
TVC will get Paz Vizsla from Mandalorian season 2, Starkiller and Hunter from the Bad Batch! That probably means that TVC will eventually have all the Bad Batch figures as well, but Hasbro wouldn't provide a timeline for any further releases!
And finally there will be a new Luke Skywalker X-Wing Pilot Prototype Edition figure, for those who like these colorful versions of classic Kenner figures!
The figure is a Target exclusive and will be available in spring 2023!
And that's it for all the action figure reveals from today's panel!
What do you think of the new figures? Looking forward to anything in particular? TVC had no Original 96 reveal today but Hasbro said they are further committed to that, but no timeline is given, as usual.