Denuo Novo has their latest replica helmet up for pre-order. Click here to check out the full gallery and pre-order details for their Clone Trooper Phase II Helmet.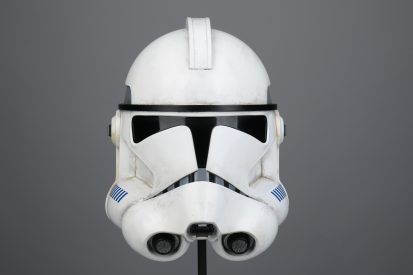 Denuo Novo is proud to offer the STAR WARS™ Clone Trooper Phase II Helmet Accessory (Weathered) – Pre-Order.  
At the time of their introduction, the Republic clone troopers represented the future of galactic warfare. Far superior to battle droids, the clone troopers formed the backbone of the Republic's new military that waged war against the forces of the Confederacy of Independent Systems. So symbolic were they of the times, the galaxy-wide conflict that saw their debut took its name from their ranks: the Clone Wars.
After multiple engineering iterations and field testing, this helmet has been optimized as a one-piece construction that will meet both demanding expectations of costuming and long-term durability. *STAND IN PICTURES NOT INCLUDED*
This one-piece helmet is assembled and ready to wear.
Original digital assets were referenced in the creation of this product.
Modeled using digital assets and slightly altered to fit a human head.
The outer shell is made of fiberglass.
Helmet interior is fully lined for a finished appearance.
Helmet size adjustment system ensures a comfortable and secure fit. Please note that most DENUO NOVO helmets fit up to a size 8 US hat size.
This is not a toy. Not suitable for children. Does not offer protection.
This version of the helmet accessory features weathering deco. Denuo Novo will also be offering a clean (non-weathered) version of the STAR WARS Clone Trooper Phase II helmet at a later date.
This helmet accessory is expected to be in stock in Q3 (July-September) 2022.
The new Clone Trooper Phase II helmet is now available for pre-order!
About Denuo Novo
Denuo Novo was founded in 2021 and awarded the STAR WARS™ high-end costume and high-end collectibles licenses. Our goal is to achieve the pinnacle of quality in the manufacturing and distribution of screen-accurate and high-end merchandise offerings from movies, television, and contemporary media. Denuo Novo is a wholly-owned subsidiary of Rubies II LLC and managed by Joel Weinshanker, owner and operator of NECA and its wider range of subsidiaries which include WizKids, Kidrobot, and Joseph Enterprises (Chia/Clapper). With this synergy, you can trust that your merchandise will have the undisputed highest level of quality of any licensed product in the collectibles market. Manufactured under the supervision of a multi-generational team of experts and logistically supported by one of the largest shipping supply chains in the nation – Denuo Novo seeks to be your single stop for the highest quality prop and costume replicas and high-end collectibles for generations to come.