Hello fellow runners! I hope you had a productive week for your collections! I recently received my sets of the Bad Batch 4-pack. It's a cool set, but certainly not worth $67. I want to see what you received this week though! Please click here to share your new collectibles!
Along with the Bad Batch 4-pack (which we'll get to in a minute), I got a new Halo Anniversary edition 3.75″ scale warthog. It came with two all-new fully articulated figures and the vehicle and is $40. When was the last time a Star Wars vehicle had that value?
The Bad Batch 4 pack, for comparison, is 4 repainted figures and retailed for $62.99. After getting 2 of these sets in hand, I had some buyer's remorse. I like clones. They were what I grew up with for toys, and I have a lot of good feelies when it comes to clone trooper figures. I don't even mind that the helmets are slightly too large. However at about $17 per figures, this set is not worth it. I will be passing on future sets like this, or at the very least only buying 1 instead of multiples. For what you are getting, it's simply too much money.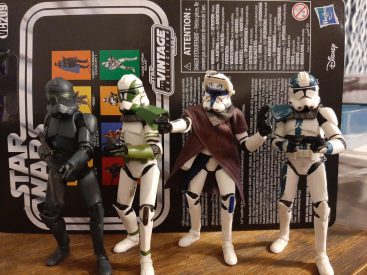 Read our full review of this set here.
I don't think I have any Star Wars toys coming this week, but I have some other collectibles arriving as I prepare to go to the Renaissance Fair in AZ next month. Stay tuned for next week's post.  For now, please share in the comments your weekly additions to your collections!