Today's livestream had very little to offer for Black Series collectors. Hasbro "revealed" yet more repacks for the Archive line and another Gaming Greats repaint. While it's certainly nice to make old figures available again for new fans, the fans who have been collecting the line for several years would like to get some new figures as well. The most exciting thing was the pipeline reveal. Figures we will get in mid to late 2023…. And the figures are Aayla Secura, Darth Maul from Clone Wars season 7 and Saw Gerrera from Rogue One. Click through to see the Archive reveals.
The livestream was quite a yawn inducing affair if you were hoping for Black Series reveals. There were none.
Instead we get more Archive figures:
C-3PO from A New Hope.
Lando in his Skiff Guard disguise
Dengar
The Emperor with photoreal deco
And this is the new Gaming Greats repaint. Once again a Gamestop exclusive. The bow is all new.
Then there were pipeline reveals for the Archive line, wave 2: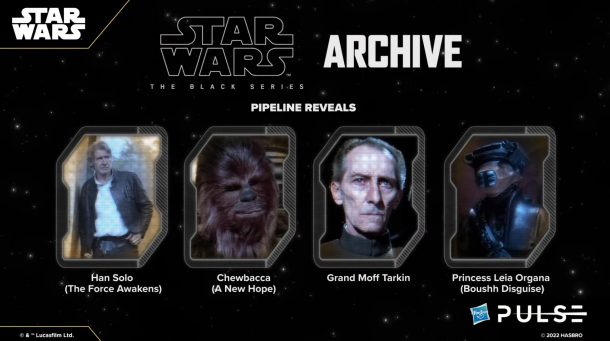 Hasbro said they paid special attention to Han Solo this time, so he would have the correct hair color. Nothing beats the SH Figuarts version of Force Awakens Han Solo though, so good luck! Tarkin and Bousshh / Leia make sense, Chewie has been repacked in his various iterations quite often already.
And again the pipeline reveals for the mainline, which are actually interesting:
And that's it. Nothing from The Book of Boba Fett, it seems those figures get revealed in special announcements, not in livestreams.
Previous pipeline reveals in the form of Omega, The Client or Tech will be available for pre-order.
Hasbro also announced that Pulse will come to Europe! Germany will join in March. I wonder how many will sigh up when you have to pay for a premium membership to get free shipping. But maybe Pulse in Europe can put some pressure on the etailers here, some of whom demand ridiculous prices. Unless of course the prices for figures on the European version of Pulse are equally ridiculous. We will see!