Hiya, folks, I was out with all 19 covids last week. Thankfully my family's symptoms were minor and we are all feeling better now. During my time quarantining at home, I got a bunch of new figures! Please click here to share your new toys from the last couple weeks.
In addition to opening these figures, I got 4 more Bo Katan figures from Amazon, and 2 Rebel Fleet Trooper army builder 4-packs from Hasbropulse. It was a good week!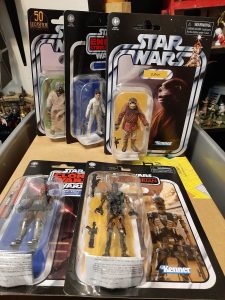 Since I was home, I had quite a bit of free time, so I decided to repaint an extra TVC Assault tank in Acid Rain World style. I'm pretty pleased with the results. I don't customize a lot of vehicles, so this was a fun project. It's all brush painted, too.
I'm glad to be back at work and hope everyone reading is feeling fine and healthy. I also hope you had a great couple weeks of collecting since we last met! Let's see your new toys in the comments below!