I've had some recent downtime to digest and assess Hasbro's most outstanding accomplishments for The Vintage Collection 3.75-inch basic figure line for 2021. I analyzed figures from both the mainline and retailer exclusives to come up with my Top 10 The Vintage Collection Figures Of 2021. Click through for my countdown!
10. Princess Leia (Endor) (VC191) — JUNE 2021 (Walmart Exclusive)
Too many in The Vintage Collection community whined about this figure unnecessarily. And despite our thorough review outlining every last bit of newness brought forth to this excellent action figure, too few collectors paid attention. And now, this figure is likely missing from their collections. It's not perfect, but this is the closest we're going to get, and it's a travesty if you don't own this action figure. It blows its 2007 base figure entirely out of the water too. Princess Leia (Endor) shows how far Hasbro can take a kit-bashed action figure and how the simplest upgrades can make a nearly decade-and-a-half sculpt look brand new again.
9. Princess Leia (Bespin Escape) (VC187) — MARCH 2021 (Wave 29)
Princess Leia (Bespin Escape) was another imperfect but clever kit-bashed action figure for The Vintage Collection. Many complained about the figure's wide hips, but since Hasbro used tooling from 2010, it should be expected that some proportions won't be perfected. However, Hasbro did a rather excellent job on the portrait, and some samples didn't have the best paint operations. But overall, this figure is a fine addition to the line and much-needed addition to help flesh out our displays on Bespin.
8. Darth Maul (Mandalore) (VC201) — AUGUST 2021 (Wave 30)
The collecting community gets pumped every time Hasbro announces a new Darth Maul action figure for a 3.75-inch scale. However, the excitement reached extraordinary levels when Hasbro announced they'd be producing a Darth Maul action figure as the character appeared in The Clone Wars television series. This long-awaited character was welcomed by open arms by every collector, and the final action figure doesn't disappoint at all. The sculpting, the paint operations, and the figure's articulation are unprecedented for this character. And collectors still rave about what Hasbro accomplished here. We hope they do more characters like this from The Clone Wars soon.
7. Ahsoka Tano (Mandalore) (VC202) — AUGUST 2021 (Wave 30)
As excited collectors were for a new The Clone Wars Darth Maul figure, they appeared delighted to see that Ahsoka Tano (Mandalore) would be joining the Zabrak Sith Lord in the same case. Once again, with precise design, gorgeous paint operations, and an articulation system that brings tears to the eyes, Hasbro's stunning Ahsoka Tano (Mandalore) exceeded expectations. From this figure's release, collectors became reassured that Hasbro was listening to them, and they continued to impress us with out-of-the-box choices for the line. This figure still sells out every time it becomes available for pre-order.
6. The Emperor (VC200) — OCTOBER 2021 (Wave 31)
A painfully underrated action figure, the long-awaited addition of The Emperor, or Emperor Palpatine, for The Vintage Collection, made more than just a few collectors very happy. Yes, Hasbro stupidly made the sneering portrait the main release, but this is the action figure we needed, and the final figure, while not breaking any new ground, still feels so close to perfect in almost every way. Hasbro has faithfully added multiple candidates from The Ninety Six into The Vintage Collection for 2021, and I am thrilled that this character was one of them. Using most of Darth Sidious (VC79), Hasbro added a new portrait and a few other goodies to make this figure unique from the rest.
5. IG-11 (VC206) — OCTOBER 2021 (Wave 31)
If you were collecting back in 2007, you probably haven't forgotten your first reaction to the "Vintage" The Saga Collection IG-88 (Bounty Hunter) figure. Well, collectors in 2021 got to experience something very similar. The addition of the astounding The Vintage Collection IG-11 showed us all once again how far Hasbro can push the envelope for 3.75-inch action figures. Coincidentally, it makes many of us "angry" that they've been so lax in recent years. IG-11 is a testament that The Vintage Collection is and will always be, and how the 6-inch line can't compare sometimes. IG-11 comes loaded with distinct articulation and comes with "fingers," unlike anything we've seen on an assassin droid to date, and many of us didn't expect all of the new sculpting that came with this figure.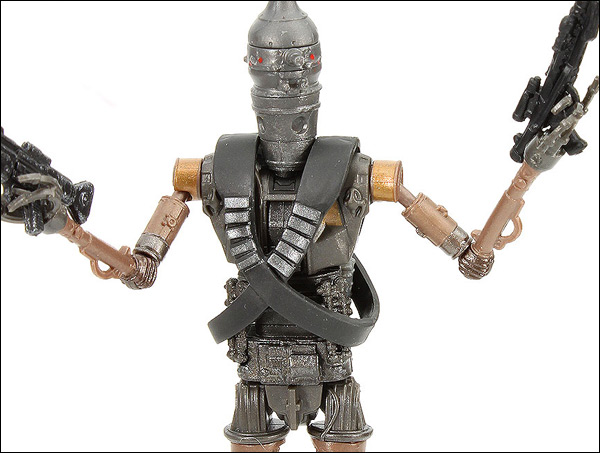 4. Lobot (VC223) — DECEMBER 2021 (Wave 32)
What a privilege it is to collect in the year 2021 and get a character like Lobot added to the basic figure lineup. If we're honest, Hasbro put significant risk in an almost all-new Lobot, but this latest version for The Vintage Collection proved that they meant business. Planned for the line nearly a decade prior, the wait has been worth it because we have the best version of Lobot possible for the 3.5-inch basic figure line. Sure, the figure comes without a laptop, but it's super-articulated and has a stunning likeness to deceased actor John Hollis. Hopefully, Hasbro will get down to business and finish off the few remaining Special Action Figure Sets dependent on characters like Lobot and Momaw Nadon to complete.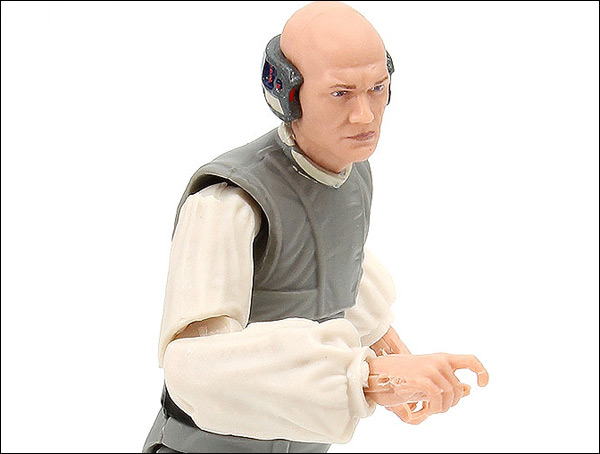 3. Lando Calrissian (VC205) — OCTOBER 2021 (Wave 31)
Hasbro nearly killed the collecting community, making us all wait for an all-new and super-articulated version of the Baron Administrator of Cloud City, Lando Calrissian. Lando Calrissian holds nothing back like all of the other figures that topped this list. Hasbro still cannot seem to get their case assortments right no matter how hard they try, as Lando Calrissian, for the umpteenth time, has become a peg-warmer again. That said, the figure's sell-through should be imminent. You're only shooting yourself in the foot if you ignore a masterpiece like this. The figure looks fantastic on its replica Kenner 1980 The Empire Strikes Back card art, and the use of soft goods with the plastic molded parts show how Hasbro masters mixed media.
2. Bib Fortuna (VC224) — DECEMBER 2021 (Wave 32)
Half of Bib Fortuna is "Lando Calrissian," but you probably cannot tell because the soft-goods skirt hides the evidence. That's a compliment, not a criticism, to Hasbro for figuring out how to use existing parts to give us desperately needed new characters in The Vintage Collection. Hasbro is on record saying that they'd never revisit Bib Fortuna after the fan-favorite 2005 The Saga Collection Bib Fortuna (SAGA 003) figure was released, but it goes to show that none of us in this industry can never say "never." Bib Fortuna is a masterpiece, and to think that word can be attributed to an action figure that's only 50% new should speak volumes. That said, the long-awaited Twi'lek in The Vintage Collection is a true gift from Hasbro. I can't wait to see what they do for characters like Amanaman and Tessek in the line. Bring them on fast, Hasbro!.
1. Boba Fett (VC186) — MARCH 2021 (Wave 29)
What a gift from the Hasbro gods above, Boba Fett (based on Return Of The Jedi) exceeded every collectors' expectations tenfold! Sure, it might not be 100% perfect, but between the gorgeous tooling, the beautiful paint operations, and the stunning corrected card art (in the nick of time, mind you), Boba Fett is unequivocally the most remarkable action figure of 2021. No one can deny it. Buy up multiples now. Once this puppy disappears from the web, you'll be paying double or triple for it on the aftermarket. Hopefully, you already have your supply of this action figure and are enjoying it tremendously. Now, if we could only get Hasbro to update that awful, The Empire Strikes Back version with the removable helmet and terrible articulation!