I already have a list of figures I want from the Book of Boba fett. If that list isn't filled by Hasbro and quickly, I will start making customs on my own. I've already begun the process with a custom Boba Fett (Tusken Prisoner) figure. Take a look after the jump! Please leave a comment about your BOBF wishlist and your week in Star Wars.
I used parts from Brock Starsher, Dagobah Luke, TVC Wolffe, TVC Carbonite Han, and TVC ROTJ Boba. Everything fit pretty well, but I did have to shorten the thighs by about .25cm. TVC Wolffe's head worked perfectly once I shaved him bald…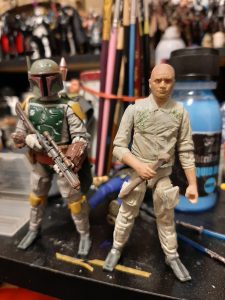 In the next photo I am cooking some Tusken Raiders! Just kidding, I am dyeing them black as part of my next project. Unfortunately the dye didn't take too well to the plastic, so I'll have to paint them anyway.
That's about the gist of it! Again, please share your weekly Star Wars finds in the comments below!