While Hasbro amazed collectors with their HasLab livestream Bandai held their Tamashii Nations 2021 event in Japan on Friday. They revealed a couple of brand new figures, and two of them are for the Star Wars line, both sourced from the Mandalorian. Sometime in 2022 we will get a brand new Luke Skywalker figure and Moff Gideon. Of course Black Series options (for Luke only kind of) exist for both and Hasbro even revealed their brand new Jedi Luke figure that will see a release in the mainline no matter if the 19k Rancor stretch goal will be reached or not. So how do the brand new SHF announcements compare? Click through for more!
Let's take a closer look at Luke first: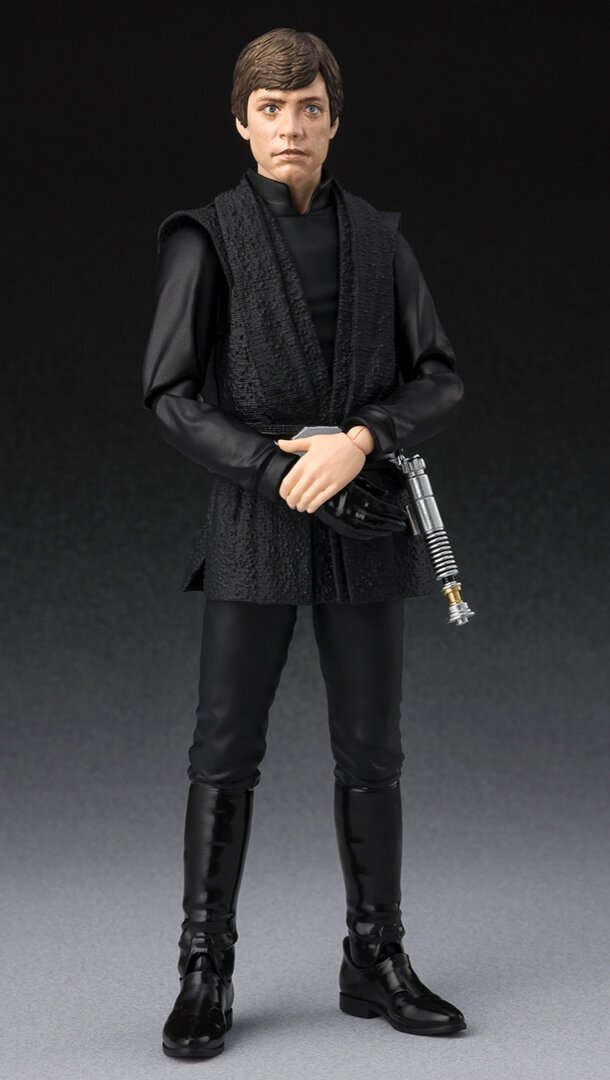 I would say this is SHF's best Jedi Luke likeness yet, the previous ROTJ Luke pales in comparison. And in my opinion this also beats the announced all new Luke by Hasbro which will most certainly get a Mando variant eventually. But chances are SHF may beat Hasbro to market with the first 6 inch scale Luke based on his appearance in The Mandalorian. However, it seems the tunic is somewhat inaccurate, since it is his ROTJ style tunic in black, but the tunic he wore in the Mandalorian has longer tabbards and looks more like the robes worn by the Jedi in the prequels. This is unfortunate. Maybe SHF can correct that mistake before he is released.
Luke does have a few accessories, he does get an FX piece for his lightsaber and of course he comes with a wired cloth cape, also black, not dark brown, to make it Mandalorian specific (and of course he will come with the usual extra hands):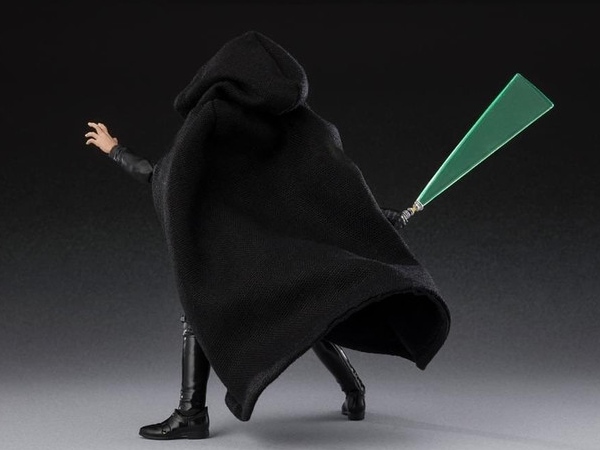 The figure will be more expensive than a future version from Hasbro and it's up to you to decide if the extra money is worth the extra quality and value.
Then there's Moff Gideon, a great Black Series option exists, so can SHF bring anything new to the table?
I would say the sculpt is excellent, about on the same level as the Black Series version. The one big difference is the wired cloth cape which will allow for more dynamic poses, whereas the Black Series figure does have a plastic cape, which won't allow for the pose shown in the photo here.
Moff Gideon also comes with a few accessories, among them the darksaber and an alternate, more stern looking headsculpt:
Gideon may be a tough sell for people who own the Black Series version, but if you want better posability and a wired cape then SHF Moff Gideon is certainly an excellent choice. But I feel many will consider their Black Series figure good enough and may not want to order yet another Gideon figure.
Luke however will probably not only be the first to market, but most likely beat the Hasbro offering in terms of quality and sculpt. We already know what a potential Mandalorian Luke in the Black Series looks like, at least when we talk about the sculpt, since Hasbro revealed their all new Luke on Friday.
Their Mando Luke will have a black tunic, gloved hand and black cape/poncho and certainly a different headsculpt, but most certainly the exact some body. Now the question is if Hasbro will wait with their release until 2023 (that would be 2 1/2 years after Luke's appearance in Mando) or if they would release their all new Luke figure before the Rancor may get released sometime in 2023. Another question is if Hasbro would give their Mando Luke a new inner tunicm since the ROTJ style tunic here is not entirely accurate for Mando, where the tabbards are much longer.
Of course nothing beats the Hot Toys Mandalorian Luke, which is an outstanding work of art:
I will certainly try to get my hands on the SHF Luke and skip any future Hasbro release. But that Hot Toys figure makes me wish I was a Hot Toys collector…
No word yet on when the new SHF figures go on pre-order and when exactly they will be released. But pre-orders will go up probably very soon. It will certainly be a Friday.
Will you buy any of the two new SHF Star Wars figures?