This week I got some new toys! One in particular is a modern update to a vintage Star Wars collectible I've wanted for a long time. I'm really happy I got this as it showed up on Hasbro's eBay store only for a short time, and I wasn't able to secure the vintage counterpart before the value shot up recently. Check it out by clicking here!
For a long time I've wanted a vintage Kenner Scout Pistol. I've always loved the Hasbro role-play blasters, and have several of the older ones and more modern ones. The Kenner pistol has recently gone up a lot in value, and I never could get one at the time the weren't as expensive as they are now. So, with that in mind, I was thrilled when this Nerf EC-17 Scout pistol showed up online. No sounds in this one, unfortunately, but it's still a great addition to my blaster collection. If I can get a second one I'll paint it up.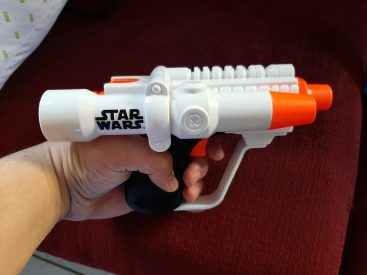 I also got a new Marvel Legends toy for anyone interested (it's awesome and enormous). Lastly, I completed a custom ARC Trooper.
What have you found in the last week? The new TVC Emperor wave is showing up in stores already! Good luck in your toy hunting!