While not really Star Wars news it may still be of interest to most Star Wars collectors to see what Hasbro is coming up with for Marvel fans with the latest Marvel HasLab. And in a livestream today Hasbro revealed the latest Marvel HasLab item: a gigantic Galactus action figure. Click through for a few more details!
In light of the upcoming Star Wars HasLab, which will most likely be a Rancor, it's certainly interesting to see what Marvel has to offer.
And the Marvel HasLab offers quite a bit.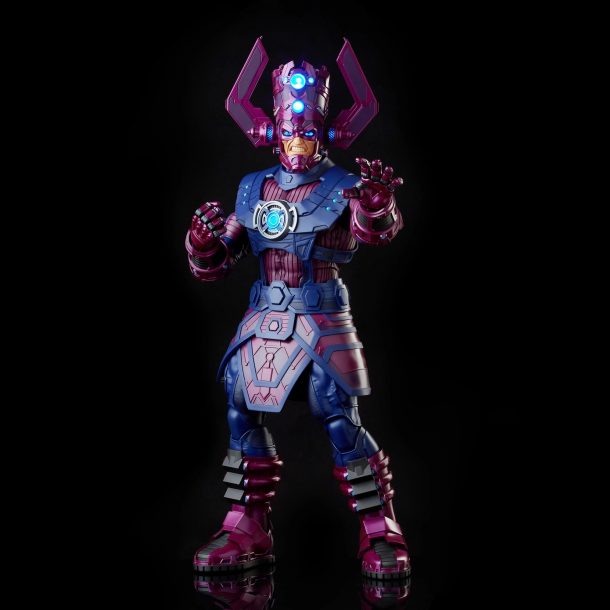 It's a 81.28 cm (32 inches) tall Galactus figure with 70 points of articulation and made of more than 300 pieces. Each hand alone has 20 points of articulation. Galactus comes with three different face plates. The figure also has an LED light up feature (batteries not included). Additional stretch goals will certainly be revealed in the coming weeks. With 81.28 cm (32 inches) Galactus is taller than the already quite tall Sentinel. So he'll be really huge.
The price is an equally enormous $399.99, but it's par for the course for your average HasLab campaign. Mininum number of backers is 14,000 (almost 5.6 million USD). After less than an hour or so more than 2,300 Marvel collectors have already said "yes". I suppose Galactus will have no trouble reaching the funding goal.
Just to give you an idea of the scale, here is Galactus next to the more or less confirmed Star Wars HasLab Rancor:
It seems Star Wars gets the short end of the stick this year with the upcoming HasLab campaign. If the Rancor is actually $300 it'll be a joke. If it's "just" $150 or so the question needs to be asked why the Rancor is a HasLab item to begin with and not an exclusive Walmart release or something like that.
You can back Galactus here! The limit is 5 per customer!
Will you back Galactus and spend $400 on the enormous action figure? Will you back both Galactus and the Rancor? Or will you back just one of the items or maybe even none? What do you think of the Marvel HasLab offering?