Hasbro: First and foremost, THANK YOU for announcing that the long-awaited update to Bib Fortuna is finally coming in The Vintage Collection. It's a quintessential character for the RETURN OF THE JEDI collection of characters in TVC. Previous Hasbro teams made it clear in the past that 2005's TSC Bib Fortuna (SAGA 003) figure would be the last attempt on this character. Never say never! That said, we need to get this Bib Fortuna right, and the most important aspect of this figure will be its facial expression. Some characters and their action figures are "dependent" on a spectacular head sculpt, and Bib Fortuna is one of them. We should probably also talk about how Hasbro should address the rest of the figure as well. (more….)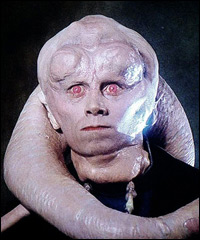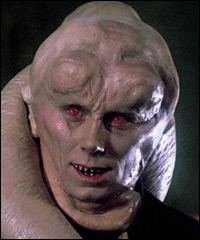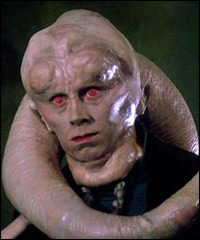 Bib Fortuna shows many emotions throughout his role in Return Of The Jedi. We screen-captured a half a dozen of them. We want to know what expression do our readers think best captures the "total package" of Bib Fortuna's stature and demeanor?
To date, the first modern interpretation of Bib Fortuna (released in The Power Of The Force "2" [Red/Green] lineup) has a neutral expression with the mouth partially open. But 2005's TSC Bib Fortuna (SAGA 003) matches the gnarling open-mouthed expression of 1983's ROTJ Bib Fortuna figure. We think a more "subtle" expression is the way to go. Your thought in the comments, please, readers.
Pick closed-mouth, opened-mouth, gnarling mouth, grimacing expression, serious expression, directing expression, or any other expression. It's your choice! Post pictures as you see fit!
Be sure to also add your thoughts about whether this figure should come with soft goods or molded parts to complete the outfit. And should Hasbro also include the vintage Kenner staff to pay homage to the original release? We haven't received that in the modern line to date. But even Sideshow Collectibles included it with their one-sixth scale version. It's time for Hasbro to step up to the plate as well.