Disney is always working on new tech to improve the experience of theme park visitors. One of these new technologies is an actual retractable, illuminated lightsaber that activates just like you know it from the movies at the push of a button. Guests who will book a stay at the Galactic Starcruiser hotel (scheduled opening is in 2022) will actually get a chance to wield these brand new lightsabers in something like a lightsaber dojo. It is not yet known if an actual toy will be made with that tech that can be bought anywhere or if this is something you'll only see in parks for the time being. Click through to see a short clip of the new lightsaber in action and find out how it all works!
First, watch the very short video demonstrating the new lightsaber developed by Disney, it's just 22 seconds:
Impressive?
It's certainly a huge step up from previous lightsaber toys and much better looking than the sabers with retractable blades currently available.
So how does it work? Did Disney actually manage to make a real lightsaber?
Not quite! The tech behind the saber is using some old technologies in a rather clever way!
The blade consists of two interlocking flexible plastic strips which are stored on spools, think of them as something like a tape measure, and just like a tape measure you can easily retract or extend these strips. A small motor drives the spools so you can extend the blade at the push of a button. Inbetween the two halves of the flexible strips is a double sided LED tape, also on a spool, that illuminates the blade.
Here is a technical drawing of the saber from the Disney patent: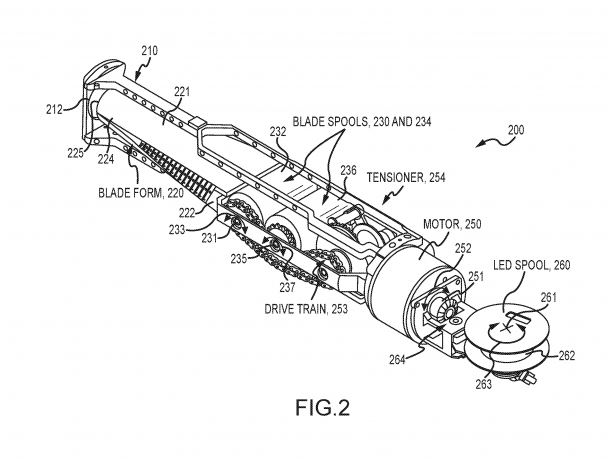 The saber was first shown at Disney's investor event a short while ago. The YouTube video is the first time the public gets to see the new saber in action. Because of all the tech inside it seems the hilt is somewhat bigger than the movie lightsabers, so it won't replace replica hilts that are made to look exactly like the movie prop.
It is not really known how sturdy the whole thing is, i.e. if it would actually work as a toy that can take a beating.
Would you be interested in getting a lightsaber with an actual retractable blade? Or is it something that may convince you to give the Star Wars Hotel (official name is Star Wars: Galactic Starcruiser) a chance where guests will be able to play with one of these sabers?
If you want to know more:
Here is a link to the patent Disney filed a few years ago with very technical details.
This short fanmade video clip on Twitter shows the basic principle behind the tech inside the saber.