Hot Toys is giving us a sixth scale Blurrg to go with The Mandalorian. Check out the Blurrg (TMS045) in our full gallery after the jump!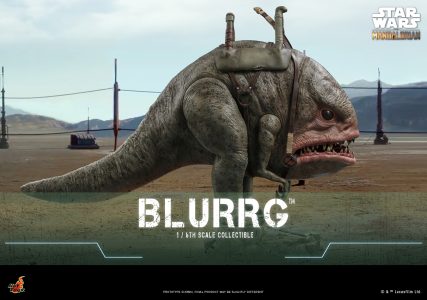 Hot Toys – [TMS045] – Star Wars™ The Mandalorian™ – 1/6th scale Blurrg™ Collectible
~ Television Masterpiece Series ~
Blurrgs are two-legged beasts of burden found on a number of worlds in the galaxy. Stoic and strong, they are used for everything from agricultural labor to war, foraging lazily in paddocks or carrying Twi'lek guerrillas and clone troopers into battle. Although they appear harmless and docile, their toothy mouths can betray a fierce demeanor; females are known to devour the males of the species during mating season.
Continuing to expand the highly popular The Mandalorian collectible series, Hot Toys is delighted to introduce a 1/6th scale collectible of the Blurrg as seen on the planet of Arvala-7.
The highly accurate Blurrg is skillfully developed based on the appearance of the creature in The Mandalorian. Standing at approximately 37cm tall (43cm with base) and 60cm in length, it features a greatly detailed head and body, articulated arms, a saddle, and a rocky theme display stand!
This 1/6th scale Blurrg will be a fantastic compliment to your Star Wars display!
Details:
Authentic and detailed likeness of Blurrg in Star Wars: The Mandalorian series
Excellent detail and coloration on mouth, teeth, tail, and rough texture of the skin
Approximately 37cm H x 60cm L x 20cm W ( 43 cm H x 60cm L x 25cm W with base)
Articulated arms and legs
One (1) set of bridle and saddle
Each collectible is specially hand-painted
Accessory:
One (1) specially designed rocky themed diorama figure stand
Artist:
Blurrg Collectible 3D designed by Studio HIVE
Release date: Approximately Q2 – Q3, 2022
**Prototype shown, final product may be slightly different
**Product details could be subjected to change without further notice
© & TM Lucasfilm Ltd.
© 2021 Hot Toys Limited. All Rights Reserved.