Victoria from Victoria's Cantina is spearheading a campaign to get the Tonnika Sisters made into 3.75″ action figures. Click through for her message, and then sign the petition!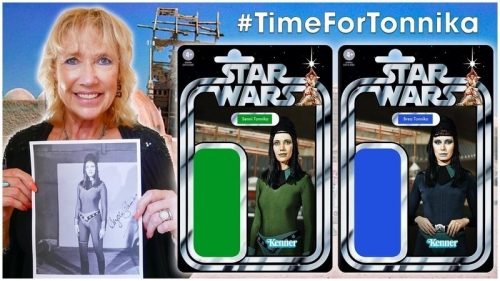 Click HERE to sign the petition
It's time for Tonnika. For decades, collectors have been asking Hasbro to produce 3.75-inch versions of the two sisters featured more prominently than most of the other aliens and surly characters in the world-famous Mos Eisley Cantina sequence of the original Star Wars. After all this time, and with Star Wars The Vintage Collection upping the ante, now is the perfect time for Lucasfilm and Hasbro to make this pair a reality.
The story of the Tonnika Sisters not making it into the Hasbro Star Wars toy line borders on mythological. For years, Hasbro refused to comment on these characters, providing little to no insight on why they were off the table. Their secrecy led to rumors, and eventually, to silence. With Hasbro refusing to concede any information, fans quit asking for them. However, the last time Hasbro conducted a Fan's Choice poll for a brand-new figure in Star Wars The Vintage Collection in 2017, the Tonnika Sisters placed at #4. The demand for the figures remains strong.
It was also in 2017 that we finally got the rest of the story. That's when I gave Angela Staines, the actress who portrayed one of the Tonnika Sisters, her first interview about her involvement with Star Wars on the Cantina Chatter Podcast. Angela confirmed some of the rumors, including that Lucasfilm lost the paperwork they needed to create merchandise in her likeness, and that when given the opportunity to sign again, she questioned the benefit she would receive in doing so. She was disappointed that after signing the release, she would still need to pay for her own figure. She explained that she thought it would be fair for them to send her a sample, and ultimately refused to sign. Since Lucasfilm could not get her to sign the new release, Hasbro could not create a figure of the character. The other actress who portrayed the other sister, Christine Hewett, sadly passed away in 2007. She did sign the new release Lucasfilm provided her shortly before her passing, yet a figure of that Tonnika Sister has not been released either.
I had the chance to meet with Angela in 2018. Over some tea, we discussed her feelings on signing a new release if presented with another opportunity. She said that after some reflection, and after realizing that so many fans had been asking for Tonnika Sister figures, she felt it would be the right thing to do. I took this information directly to Hasbro during my interview with Sam Smith and Sarah Carroll at San Diego Comic-Con 2019. They were delighted by the news and would take the information back with them. Then at New York Toy Fair 2020, we asked Sam for any updates on the situation. He confirmed that Hasbro was well-aware, as was Lucasfilm, but that there had been no further developments.
It is now 2021, and the fight continues. I recently spoke with Angela once again for my other show, The Vintage Collection Podcast, and she explained once again that she was ready to sign a new release with Lucasfilm. She was also very forthcoming in detailing why time is of the essence in making the Tonnika Sisters a reality for Star Wars fans. The last time she was approached with a release was over 15 years ago. Surely a company as big as Lucasfilm, along with its even bigger parent company Disney, has the capacity to let bygones be bygones and get the ball rolling on setting things in motion once and for all. Finally releasing the Tonnika Sisters would be an acknowledgment of the steadfast faith the fans have placed in Lucasfilm and Hasbro over decades of various Star Wars content and toy lines. It would also bring to a close the years of legend and mystery surrounding these two characters.
In order to demonstrate the continuing demand for the Tonnika Sisters, I have coordinated with many fine folks across the collecting community to say that now is the #TimeForTonnika. We have launched a new petition for Lucasfilm and Hasbro to inform them of the urgency in finally making these figures happen. But the petition is just a component of this campaign. May the Fourth is a celebration of all things Star Wars, and it is the perfect time to bring awareness to our plight by encouraging others to sign as well by spreading the word. On social media, let's ensure that Lucasfilm knows it's #TimeForTonnika. With our combined strength behind this goal, perhaps we will be a little closer to making these long-requested characters a reality.