Welcome, readers! It's Toy Run Tuesday again, and I have a few great new toys to share with you today. I hope to see your week's finds in the comments, too! Please click here to check it out!
Thanks to a tip from one of our readers, I was able to secure the Disneyland droid 5-pack for retail+shipping via mdscollectibles.com . It's a fantastic set. I have to give applause to Disney for this one. Not only does it have several unique droids, they are expertly done from molding to the dirty wash. Here's a shot of my two favorites from the pack with Vedain (also a new figure this week) fixing them up.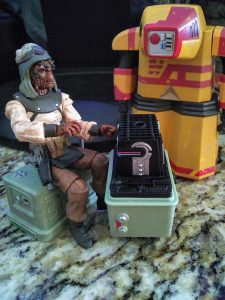 I also finished up a couple Imperial customs. I really wish they would get around to making a TVC Mudtrooper already!
That's all from me, folks! Please take the time to leave a comment with your finds this week! If you're on Instagram, please post your #toyruntuesday photos there as well so we can share them on our page! Or if you prefer, you can use the hashtag in your comment below and I'll consider that an okay to feature your photo on our Instagram. Thanks for reading!