There have been a number of Luke Skywalker action figures in the 1/12 scale since the Black Series, later followed by S.H.Figuarts, entered the market in 2013. In fact, the vast majority of versions of Luke that appear on screen have been realized by now, with only a few notable versions missing. This is perhaps the perfect time to look back and reflect upon the many Luke Skywalkers we have gotten over the years in the 6-inch scale. Do we have an ultimate 6-inch Luke Skywalker? And what is your favorite 6-inch Luke Skywalker? So click through for an overview and discussion of 1/12 scale Luke Skywalker action figures, both Hasbro and SHF.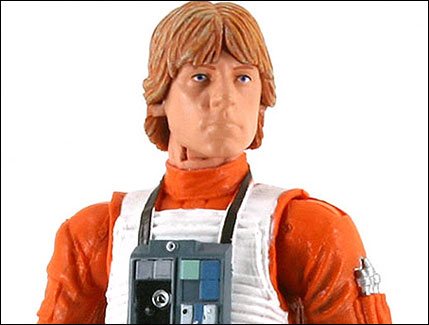 The first of many 6-inch scale Luke Skywalker figures
Let's dive right in and take a look at the various 1/12 scale Luke Skywalker action figures. I have included most versions here, but not all, i.e. a rerelease with little to no visible difference will not be listed here, but whenever there is a major difference in either paint application or sculpt the figure will be listed.
I also included a few reference photos of Mark Hamill as Luke Skywalker for each movie he appeared in. I will begin with A New Hope figures, followed by Empire Strikes Back Figures etc. So it's not a chronological list of releases.
A New Hope
| | |
| --- | --- |
| | Mark Hamill as Luke Skywalker in Episode IV. |
| | At the time this was considered a good action figure. The sculpt may be decent but the paint apps are just not up to modern standards. |
| | And the photoreal Archive version of X-Wing Luke. Close-up photos of photoreal figures with a bright flash do the figures no favors, unfortunately, and therefore they tend to always look a bit off if shot under these conditions. Still, the sculpt seems to be off here. |
| | Sadly, Hasbro's  standard Farmboy Luke release is just… bad. Pinheaded, atrocious paint apps straight from the last century and even the sculpt doesn't seem to be all that great. Just compare this to the photo of Mark at the top. |
| | Hasbro tried to improve on the standard release of Tatooine Luke with the Landspeeder version of him. Unfortunately it's just different shades of "really bad". Caterpillar eyebrows, anime eyes and lipstick make this yet another bad figure. And the premium soft goods still don't work all that well. |
| | The S.H.Figuarts version of Tatooine Luke. The alternate headsculpt with a broad smile is not pictured here. While the sculpt is certainly not perfect it is, in my opinion, the very best version of Farmboy Luke. The sculpt, while not perfect, is pretty good, paint apps are excellent and as an action figure with a sculpted plastic robe it is vastly superior to the TBS body with soft goods that never really work that well. |
| | Luke in Stormtrooper Disguise. The sculpt may again be "ok", but the paint apps (lack thereof) are just terrible. Also, Hasbro gave Luke yet another hair color. |
| | This photoreal variant of Death Star Escape Luke is extremely scene specific, however the sculpt is great and the photoreal paint apps add the necessary touch of realism. This was certainly Hasbro's best Luke yet, at the time of release. |
| | Medal Ceremony Luke is another good version. Sadly, the photo does not do the figure justice, since close-ups with bright flashlight will make almost all photoreal figures look a bit off. |
| | This is a Hasbro promo photo of the same figure. And while it is, of course, a promo photo it was taken with much more appropriate lighting for a photoreal figure. You can see that the sculpt may not be spot on (I believe the mouth looks wrong), but the sculpt has great detail, a good skin tone and looks a LOT Mark Hamill, even if it may not be 100% perfect. This is what the figure more or less looks like on a shelf in natural light. |
The Empire Strikes Back
| | |
| --- | --- |
| | Mark Hamill in The Empire Strikes Back. This is what an action figure of him from that movie should look like, ideally. |
| | Well… just no… the sculpt may be not all that terrible but like virtually all early Black Series figures the figure and the sculpt are let down by comically bad paint apps. |
| | Again, the photo does not do the figure really justice, but the re-release of Bespin Luke in the anniversary line is a marked improvement on the previous figure. The sculpt still seems to be somewhat off, but overall the figure has a good resemblance of Mark Hamill and looks a lot more lifelike than the very cartoony previous version. |
| | The Dagobah Training version of Luke is one of the latest releases of him from Hasbro. Again, the photo overly emphasizes the lip color, it's really not like that at all in natural light. The figure is on my desk as I write this and it does look pretty good. However, I feel the sculpt is not perfect and a bit off. Also, for some reason this figure looks a bit like the character "Grace" from Terminator Dark Fate played by Mackenzie Davis. Or maybe Mackenzie Davis in Dark Fate looks like young Mark Hamill… |
| | In my opinion Snowspeeder Luke has a virtually perfect likeness.  It's certainly one of Hasbro's best efforts. An all new body with up-to-date articulation also greatly enhances this figure. |
| | And the first version of Hoth Luke is just not good. Limited articulation, the usual early phase Black Series anime eyes and just lackluster facial paint apps in general make this a fair figure at best. Again, the sculpt may be decent, but the paint apps destroy everything. |
| | The photoreal Archive update of Hoth Luke certainly looks a lot better, you can appreciate the sculpt now. The figure itself is still very dated though with limited artculation. |
Return of the Jedi
Mark Hamill as Jedi Luke in Return of the Jedi. Any ROTJ era figure should resemble that likeness.
Instead Hasbro chose to give fans Derp Derpwalker with atrocious paint apps. Whatever sculpt there is is destroyed by paint apps from the 20th century. The figure itself also has limited articulation. Something we will return to soon.
The SHF version of Jedi Luke is certainly not perfect either, the sculpt is not entirely accurate, but you can still see the resemblance. And at the time it was certainly lightyears ahead of the TBS version. Many things depend of your acceptance of golden hair… if you can accept golden hair then this SHF Jedi Luke is, in my opinion, still the very best action figure version of him. For one reason: articulation is fantastic and this Jedi Luke can be put into countless extremely dynamic poses, something the TBS body simply cannot do, since articulation is rather limited.
Jabba's Palace version of Jedi Luke is a huge improvement over the previous iteration by Hasbro, sadly, the figure uses the same body, which means very limited articulation that won't allow for all that many dynamic poses. Once more the way the photo was taken does not do photoreal figures justice. While the photos taken with a bright flashlight make for great reference photos, they do not really represent how the figures look in natural light on your shelf or desk.

To show you how much of a difference the lighting setup can make here a photo of Jabba's Palace Luke with a very different setup. This photo comes from TOYARK.COM.

You can see that the sculpt is really, really good and resembles ROTJ era Mark Hamill a lot. But as with virtually all Luke figures, I feel that something is still a bit off. Also, the figure is let down a bit by the outdated body with limited articulation.

Endor Luke looks a bit off without his helmet. The hair had to sculpted in a way that Luke can easily wear his helmet. But still, another greal sculpt, but as with all the Jedi Luke figures it's somewhat let down by a lackluster body sculpt.
The Sequel Trilogy

| | |
| --- | --- |
| | Mark Hamill as Island Hermit Luke Skywalker. |
| | Maybe it's an action figure of Jake Skywalker. It's certainly not Luke, since the figure hardly resembles Mark Hamill at all. Technically a The Force Awakens figure, it was released in time for The Last Jedi where this version of Luke appeared as well, and later as a Force Ghost version in The Rise of Skywalker. Certainly one of the most disappointing action figures of Luke Skywalker ever. Not helped by the fact that the figure had zero accessories. |
| | The deluxe variant of Jake turns him into an overslept version that hasn't had a good night's sleep in several days. Still one of the worst Luke Skywalker action figures ever. |
| | Grumpy Island Hermit Luke may probably be the least favorite version of Luke Skywalker for many, but this SHF action figure is absolutely great. It has a fantastic likeness and the detail in the sculpt is simply amazing, the cloth structure is extremely detailed. While this version of Luke will probably never be all that popular it is an excellent action figure. |
| | And Mark Hamill as Force Projection Luke. The man who wasn't really there… |
| | Some people compared the SHF version of Crait Luke to Chuck Norris, but I think this is unfair. I have the figure on my desk and it really does look a LOT like Crait Luke. Much of this figure is a re-use of Ahch-To Luke. It is a good, not great action figure, the plastic cape hinders articulation somewhat, but as a visual representation of this version of the character SHF Crait Luke is a fine effort. |
And that's it! These are all the (major) versions and variants of Luke Skywalker in the 1/12 scale!
Overall there are 15 different versions of Luke between Hasbro and SHF. There are more than 20 Lukes even if you include photoreal / sculpt updates. Luke has the most action figures in the 1/12 scale by quite a margin, and certainly for a reason. He is the most iconic and popular Star Wars hero of all time. But what major versions or variants are still missing? Not too many.
Bespin Duel Luke with battle damage and missing (or removable) hand
Bacta Tank Luke / Sickbay Luke
TROS flashback Luke
TROS Force Ghost Luke
Mandalorian S2 finale Luke
The question now is, do we already have an ultimate 6-inch scale Luke Skywalker action figure?
In my opinion: no.
While Hasbro has made great advancements with their paint apps and Luke sculpts the major issue is that all the iconic version of Luke – Farmboy, Jedi Knight, Bespin – either suffer from comically bad paint apps and/or from outdated body sculpts with severely limited articulation.
SHF Jedi Luke has probably the best body sculpt of them all, with excellent articulation, but his golden hair and not quite perfect headsculpt prevent this figure from being perfect. Likewise, SHF Tatooine Luke comes pretty close. Sculpt is decent, accessories are excellent, but his golden hair may be a turn-off for some and again, the headsculpt is not 100% there.
Hasbro's most recent Luke sculpts are usually excellent, but in my opinion Hasbro MUST still release an ultimate Jedi & Bespin Luke and especially an ultimate Farmboy Luke. With completely re-engineered bodies that use the current formula with butterfly joints, greatly improved elbows and knee joints without visible pins. It is a pity that so many major versions of Luke were released early on and that Hasbro decided to re-use the old body sculpts for many major new releases of him. Dagobah Training Luke, Snowspeeder Luke and Medal Ceremony Luke are the only really modern figures of him, with Snowspeeder Luke certainly the one that is closest to "perfect", I can hardly imagine a better looking version of Snowspeeder Luke. But it's still not the Luke most people think of. That will always be Farmboy Luke, Bespin Luke and Jedi Luke.
If the sequels are your thing then SHF's Ahch-To Luke is possibly the best action figure version of Luke Skywalker and virtually perfect, in my opinion. Likeness is excellent, sculpt overall is fantastic, sadly, the figure itself represents a version of the character that does nothing and will probably never be a fan favorite.
So what do you think? Do we have an ultimate 6-inch scale Luke Skywalker action figure? What is your favorite 6-inch scale Luke Skywalker figure? Leave your thoughts in the comments!
Also, let me know if you would like to see more overviews of 6-inch scale Star Wars character variants. Darth Vader comes to mind, Han Solo and Leia as well.