Happy Tuesday, Toy Runners! This week's toy runs have availed me no new figures, however I took the chance to update my shelf displays and would like to share a photo. If you have new finds this week I'd love to see them, but let's use today's article to show off your collection! Click here to leave a comment!
The biggest update I made to my display shelf are the helmets on the top.  I retrieved several toys that have been stuck on my office desk for a year now while we've been working from home. This week I painted the Captain America helmet and put the three on display with their action figure counterparts (some of the few 6″ figures I have – they are good for focused displays).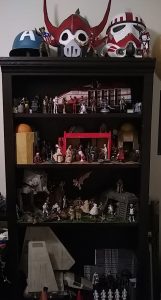 You can see from the dioramas I still have some work to do. Backgrounds are the biggest thing, really, but I am very happy with how my display space is coming together. Let's see your collections in the comments below!