One of my favorite Disneyland blogs, Endor Express, shared some wonderful photos of the new Galaxy's Edge trading post in Downtown Disney, Anaheim.  Will you be going to the outpost any time soon? What exclusive items would you like to buy the most? Let us know in the comments!
The great thing about this new store is that you don't need to pay park admission to shop for park exclusive items. Hopefully that means we'll start seeing some of them at a better rate for those who can't make the trip themselves! I've focused the photos in my article to what may be of most interest to our readers, but there is plenty more to see in the original Endor Express article.
If you're wanting to pick up the amazing Droid Depot 4-LOM, now might be a good time to get it. It comes highly recommended, and who doesn't need more build-a-droid style protocols?
In other exciting droid news, it appears the new 5-pack is also available at the trading post. I particularly want this set due to the big BU-4D style droid and the R1 with a removable lower section, but the set is really nice looking all around.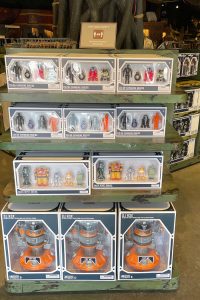 Again, check out the original article on Endor Express for more photos of this awesome new Star Wars store. Let us know in the comments if you'll be getting any of these exclusives now that they're a bit more available!