OK, Hasbro. Firstly, thank you for doing right by collectors of The Vintage Collection. Today's announcement was LONG OVERDUE, but at least it's here now. Secondly, since you've confirmed this figure's release, it's now time to talk about that card back. You should have time to remedy the multiple issues that plague it and get it to your art department to fix it. Click through for more.
You have the wrong "pill" color and figure placement backer. The original vintage Kenner Return Of The Jedi Boba Fett came colored with "mustard yellow." We have the exact color saved in our vintage Kenner Boba Fett Research Droids Reviews entry. Please study the color and match it. It's imperative that Boba Fett come with the correct coloring!
The background of the blue sky is incorrect. The Kenner version comes with a gradient light blue color, where you went with an aqua type of blue. It's not accurate. It's important to get this detail right.
You have Boba Fett too much "in our face" on the modern card back. The original Kenner art shows a more "elongated" image of the character. We understand why you did what you did, but it's time to correct it and to perhaps make it better than ever. If you click the original Kenner reference image below, you'll see that the image Kenner used cut Boba Fett off at the groin. There is no image of the full body of this picture. So Kenner had to "airbrush" the rest of the body themselves. Let's see you complete the missing body with the technology today. It will stay in keeping with the spirit of Kenner while making it better than it ever was. Plus, Boba Fett won't make us go cross-eyed because he's "too close for comfort."
Once you shrink Boba Fett down, please reangle his blaster so it goes above the bubble of the figure. If you compare the Kenner ROTJ Boba Fett to the reference image, you'll notice that his sawed-off blaster rifle barrel is pointing differently in each image.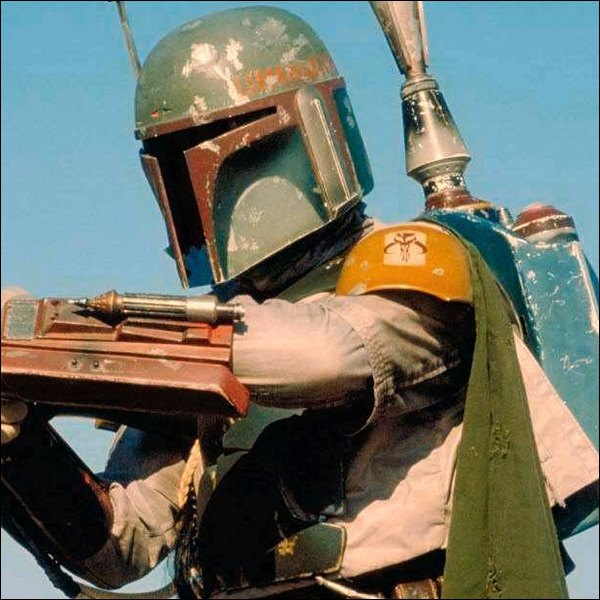 If you can keep the Power Droid purple, you can do this for Boba Fett. (Psst. If you need the original reference materials, we have them. We'll loan them to you!)
THIS IS ALL WRONG!