This is why Hasbro was super-smart to make this item an online exclusive. JTA reader Jon M. found The Vintage Collection Millennium Falcon (Smuggler's Run) on clearance for $279.99. We have no idea why TARGET would place a brand new item on clearance. All of the other Galaxy's Edge stuff is full price. There is obviously a breakdown in communication somewhere. Either way, don't expect to see too many of these instances at your local brick and mortar location! Click through for more!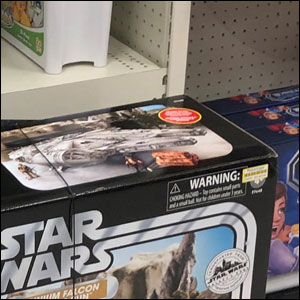 Found this bad boy and it is HUGE!!!!  I should have taken a sticker of the price tag but it was considered "repackaged" I'm assuming because a collector didn't like the dinged corner but it was discounted to $279!!!  A steal really for this retailing currently at $400 but also could be the ol switcheroo 
It was at The Crossings Target in Spring Hill, TN and was still there as of 10:30 am or so.
Editor's Note: If this is indeed a switched-out product, then that is pathetic.