Welcome again to Toy Run Tuesday! Let's get going with some photos of a new diorama set I received in the mail, and a custom Old Republic custom of Meetra Surik, the Jedi Exile. Click here to take a look!
I hope everyone has had a wonderful week! Just a couple things to share with you today, so please add your weekly updates in the comments below! Find something new? New TBS figures? New customs? rearranged the shelves? Let's see it!
I went to Target today to see if they have the new TBS wave in stock. They didn't. In fact, they didn't have much at all. No pics there…
Instead, I want to share an early progress photo of a new diorama kit I received from Krazy D Kustoms. I'm very excited to have these TIE Fighter racks for my display. I'll be writing a much more in-depth guide once it's finished. FYI, he will be adding a TVC TIE rack at a later date.
The other thing I wanted to share today is a custom figure I was commissioned to do. I don't do a lot of EU custom figures, so this one was a fun challenge to put together. This is Meetra Surik, the Jedi Exile.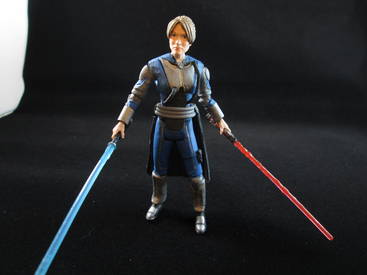 Again, if you have something to share, we want to see it! Please share your week in Star Wars in the comments below! Thanks for reading!