Good evening Toy Runners! Trying a later time today. A couple things to share with you this week. I really want to see your week in Star Wars, though so please check out the comments and leave one here!
I've started working on a lightsaber prop. It will just be a hilt, not a battle-ready one, but I plan to make it a reveal saber with a crystal chamber, so I started there.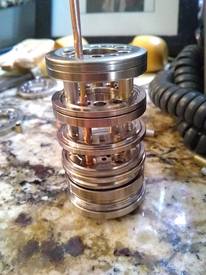 Next, another bit of metal work. My wife for Chrsitmas got me a Metal Earth model kit. One of my favorite movies is 20,000 Leagues Under the Sea. Models of the Nautilus are hard to come by, so I am very happy to have one!
Lastly, I'll share a custom from Jedi: Fallen Order. The Flame troopers have a remarkably similar helmet to that of the concept snowtrooper figure. So, a headswap later and here we go:
Thanks for reading this week! Please share your finds in the comments below!