Hello again, my fellow Toy Runners! Stuff is starting to reopen finally in my state. I'm happy for the people who are able to return to work after not being able to for so long. Things opening means that I was able to go on an actual toy run! It is my birthday this week, so I was feeling extra generous and decided to buy something big… Click here to see what it was!
Before I get to my big birthday purchase, I wanted to share some photos of the 3.75″ collection items the stores I visited had for sale. Also, a big shout out to Toy Anxiety for having some amazing prices as well as a long sought-after birthday gift to myself. 
As you can see, they had several of the most recent waves of Vintage Collection figures, and a wonderful selection of loose figures (of which I bought Kallus and an Ughnaught). I also visited Collectors Marketplace, and they too had several TVC Figures, albeit older ones.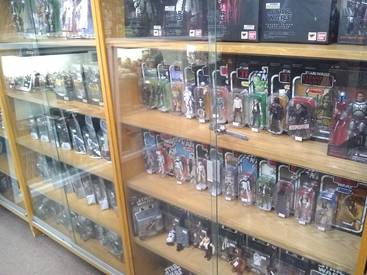 As for my big purchase, this is something I've wanted for years, but one, could not afford, and two, did not have the space for. I saved up for my birthday, and when they had this at the store, I couldn't say no. For $150 I got a complete, and in wonderful condition, Saga Shuttle Tydirium.
I am just beyond thrilled to add this amazing ship to my collection. Thank you for tuning in today. Please share with us in the comments below pictures of your new toys from the past week! If you didn't get anything new, do you have the Imperial Shuttle in your collection? How do you have it displayed? Thanks for reading!