Welcome back to another fine Tuesday everyone! I hope you enjoyed your holiday weekend. I worked on my yard, did a bbq, and made some progress on some custom figures. This week I want to share a custom cardback Wade K from the TVC group on Facebook did for my purge trooper. Check it out here! 
Boy, I really do wish we would get more TVC figures like this. I would prefer a more realistic shot for the background photo, but nevertheless this looks so amazing on a Vintage cardback. TVC cards really do make good figures look even better! Be sure to sign the TVC petition to show Hasbro your support for a line we are struggling to support with our wallets due to the lack of figures!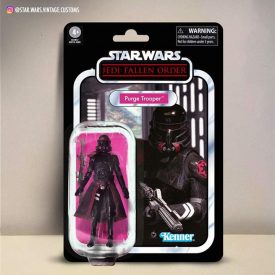 Please share with us your week in Star Wars in the comments below!