Now that's a surprise. Mafex haven't released or announced a Star Wars action figure in ages. But now their version of The Mandalorian action figure has leaked. The reveal is a quick photo of some magazine page, and in true leaker fashion a potato camera was used, oblique angle as well, I tried my best to make the photo somewhat better. Based on the leaked magazine it could very well be that Mafex knocked it out of the park once again. Their Boba Fett action figures (both TESB and ROTJ) are the best you can get, and it seems the Mandalorian may continue that tradition. Not much else is known at the moment. It's also unknown if Baby Yoda aka The Child will come with the figure. Baby Yoda is shown, he's appropriately tiny as well, but in the photo with the accessories Baby Yoda is missing. Price for the Mandalorian could be 8900 Yen (based on what is barely legible in the photo of the magazine page) – which is ca $83 / 77 Euros – which is in line with previous figures. We'll keep you posted! Click through for a few more photos of the figure, inckuding a shot with Baby Yoda and a comparison with the SHF version!
Here are some more photos taken from the magazine page:
You can see that the cape looks a lot better than what SHF is offering, it looks a bit more realistic, the cloth is not smooth, but seems to drape really nicely. If anyone can read Japanese please translate the caption for Baby Yoda's photo.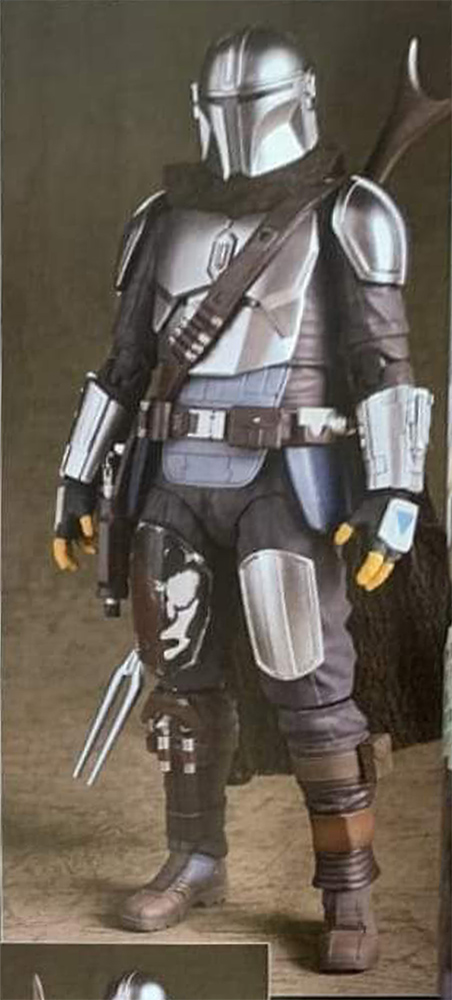 And this is the Mandalorian in relaxed standing pose. The proportions seem to be spot on. And this is something that also applies to Mafex's previous Boba Fett figures, the figures looked like they put a tiny human being into actual armor. I cannot stress enough how much more realistic and "real" the Mafex Boba Fett figures look compared to the competition, with SHF looking rather cartoony and stylized (which can have its own charme as well) and the toylike TBS Boba Fett who looks like, well, an action figure, whereas Mafex Boba Fett looks like an actual tiny human being.
And to illustrate all that, here a quick comparison between Mafex Mandalorian and SHF Mandalorian:
While SHF does look really good, the Mafex proportions seem to be perfect. It may be that the color of the right thigh armor is more accurate on the SHF figure though.
Still, 80+ USD is a lot of money, but any serious 1/12 scale collector should absolutely think about getting the Mafex Mandalorian, chances are it will be the very best version of the Mandalorian you will ever get in the 6 inch scale.