Hello my fellow toy runners! It's been quite a week! I have some exciting new things to share with you, including some custom Star Wars pieces my wife made! I also was able to make a great score via Facebook Marketplace, and picked up one of Hasbro's best vehicles locally. Please click here to check out some photos of this past week in Star Wars!
This week I have some exciting things to share with you. First off I wanted to share some local finds. I went to Walmart (I know, scare right?) and of course went to the toy section since I haven't been now in what feels like ages. Right before my eyes was the newest wave of Black Series figures. My dad collects them so I bought Commander Bly for him. Just before I headed to Walmart I met with a local gentlemen who sold me a beautiful ARC-170 clone starfighter for a more than reasonable price. It even had the tail gun which is hard to find. Very happy with these finds this week!
Next I wanted to share some special items. It's always fun when my wife gets involved in my hobbies. She is particularly crafty (in the good way) herself, so for me she made a great mudhorn egg. She is also working on a Tatooine backdrop for a friend. I took the liberty of doing a mock-up shelf with a few of my Tatooine themed toys and I like how it's turning out.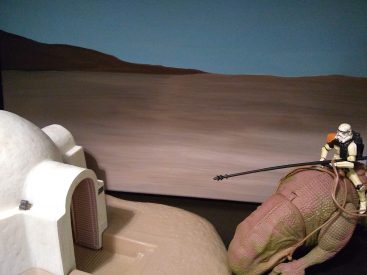 All in all I'd say it was a fine week in Star Wars. I'd love to see how yours went in the comments below! Thanks for tuning in!