Some exciting new customs to share with you this week. I haven't been able to go on any toy runs due to most places being shut down during the coronavirus scare, but alas, that gives me time to work on some customs. Click through to see them, and take the opportunity to share your weekly finds or deliveries or customs in the comments!
Last week I teased the helmet of an incinerator trooper as seen in The Mandalorian. I was able to complete the custom and have pictures for you today. This is an easy peasy release for Hasbro. New gun, new backpack, and throw straps on the pack so you don't have to retool the current VC140 stormtrooper. But since a little paint is too hard for them, I'll do it myself! Here you go:
Secondly, here is another release I wish Hasbro would take the time to do. They made a 5poa Taidu Sefla figure, and he is one of the only Rogue One squadron produced from the movie. We should have gotten the whole Scarif strike team in super articulated format figures, but unfortunately that may never be the case. I plan to continue working on other members of the team (and other rebel troopers in general) as I complete other projects.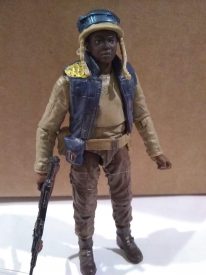 That's all for this week's Toy Run. Please share your photos in the comments section below or find us on Facebook! Thanks for reading and participating!