I want to make a plug for 2 of my favorite shops online for custom parts: Krazy D's Customs, and Watto's Scrapyard. Both companies offer 3D printed parts of their own skilled original design, but for very different aspects of the customizing world. For people like me who love to customize, they fill a valuable, if not crucial role, in collecting today. Click here to see what I mean.
Krazy D's Customs, started by Paul K., has certainly expanded his product range in the last year. After the last time we posted about his company, he got a big push for new product and has really delivered. Right now, his store is on a bit of a hiatus, but for very good reason. Take a look at the screenshot below from his Facebook page: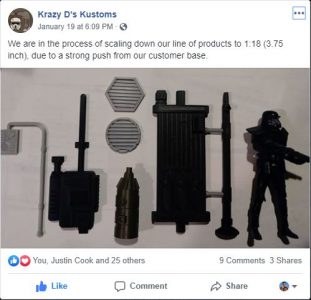 He has gotten so many requests for 1:18 (3.75″) scaled items, that they are scaling down a large portion of their products to match the scale. He is expected to reopen his store in February when the new products are available. I have ordered from KDK and can attest to the quality of the prints and friendliness of the owner, and I know I'm not the only reader who has purchased from him either. I'm excited to see where he goes with his products in the future! 
***
The next designer/business I want to mention is Shawn F. of Watto's Scrapyard. Unlike KDK who mainly focuses on diorama parts and small vehicles, Watto's Scrapyard focuses on parts for the figures themselves. More specifically things like headsculpts for unproduced figures and figure accessories. Please be sure to check out his Facebook photos to see just how much work he has been putting in for the community.
I just had a package from Watto's Scrapyard delivered yesterday. In it were a few heads that I am very excited to paint and make figures for:
Those heads are in 3.75″ scale, but both companies 3D print for 6″ and 3.75″ scale. For reference, the Armorer helmet is 1.7cm tall.
There are pros and cons to this kind of future for collecting. Obviously, I hope that all these figures get made by Hasbro, but that hope is on shaky foundations. The pros are that there are people who can produce the kind of things we collectors want from new media. The downside is that it is do-it-yourself. You'll need to either be able to paint or pay someone to paint for you. 
This is not a paid article. I am sharing this because I am happy to have a new way to make custom figures that are missing from The Black Series and The Vintage Collection.
You can purchase items from KDK  here (again, temporary hiatus, so follow his Facebook to get updates on new product availability). Purchase from Watto's Scrapyard through Facebook or eBay. If you want 3.75″ scale heads from Watto's Scrapyard, be prepared to give a measurement for how tall the head should be in centimeters from chin to top of head (easy to find if you just hold the head up next to a ruler).
What do you think? Is this too difficult to bother with? Is it a viable option for action figure collection going forward?