This week I didn't add much to my collection, so instead I played with my toys! What else are they good for anyway? Looking at them?? My 2 year old son has fallen in love with my Starspeeder 1000 and has found all the buttons that make noise. He knows where the astromech droid fits and even how to open the doors (although that one scares me because he grabs the doors to pull them open the whole way…). Click through for some pictures of playtime this week in Star Wars!
Speaking of astro droids, I felt like pulling all of them together from their various bins and bags (I'm still unpacking) to get a group shot. I didn't include my 90's vac-metallized R2 ironically. I love droids. Astros are great, but my favorites are the ones with lots of arms like the WED Treadwell droid (this review needs more comments, people!), probe droid, or FX-7. There are many more droids that appear in new media that I wish Hasbro would get around to making toy versions of, and none of them are more astromechs. We'll see what happens.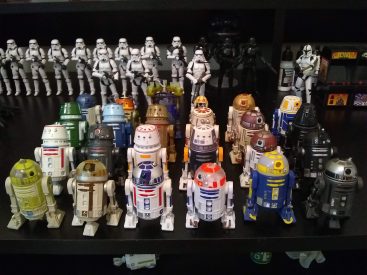 Next, I wanted to share a quick custom project I'm working on. It's really quick, other than the time it takes to scour Ross stores for more TLJ Force Link FO Troopers… I'm swapping the heads on the TVC FO trooper with the TLJ version, because, well, it looks WAY better. I really wish they had done this for the wave 1 TVC release, but alas that ship has sailed.
The last bit of fun I had with my figures was with one of my all-time favorite playsets: the POTF2 Detention Block Rescue. I'm no photographer, but I did rewatch the scene to make sure I had them in the right order in the hall and that Chewie had the right blaster. Boy do we need an updated cinnamon bun Leia. 
Well, there you have it, folks. My week in Star Wars. How about you? Any new additions? Did you play with your toys this week or just look at them?