New Zealand Mint has just told us they will be having a holiday sale on the run-up to Christmas, including discounts on a range of Star Wars limited edition pure silver and gold coins, silver coin notes, foils and miniatures. Sign up today to receive NZ Mint news via email and you'll get these specials sent directly to your inbox!
Click through for complete details.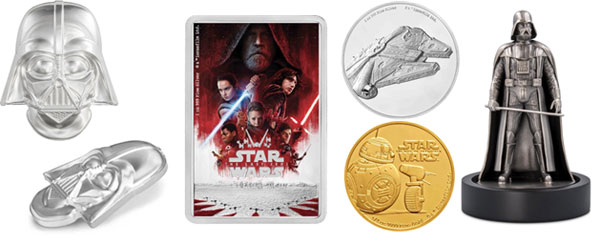 They will be sending the offers out from 18 November to 9 December, and there is sure to be something that catches your eye – especially as each coin is a real work of art incorporating quality craftsmanship and materials. Everything is individually presented in Star Wars branded and stylized packaging, making them ideal gifts for any Star Wars fan – or at their special prices you can always treat yourself!
And the cherry on top is that New Zealand Mint offers FREE SHIPPING worldwide.
So, what are you waiting for, sign up today to make sure you don't miss out on some amazing Christmas deals!
And if you are keen to be one of the first to hear about other Star Wars precious metal releases from New Zealand Mint, you can find them on Facebook, Twitter or sign up here to get Star Wars coin news emailed directly to your inbox!
New Zealand Mint: adding genuine value to your Star Wars collection.