This week, EA games announced (finally) that they would be adding instant action to Battlefront II. That's the best part of the old Battlefront games in my humble opinion, so I'm extremely excited for the addition to the new games. Now I just need an Xbox One or a gaming PC….. Anyway. The other new addition to the game are Clone Commandos. With Clone Wars on its way next year on Disney+, it got me thinking: Hasbro really needs to make an all-new clone commando in TVC and TBS and re-use the heck out of it with different color schemes. Click through for a review on the clone commando figures we've gotten thus far!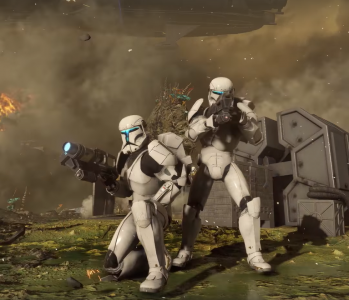 The first iteration of the republic commando Hasbro produced was Scorch in the Saga Collection back in 2006. It was a great figure, and still is, but is lacking several important points of articulation for an elite trooper. The figure was then repainted into the whole team you play as in the wonderful videogame Republic Commando. You can check out our review of that set here. Knees were finally added in the Entertainment Earth exclusive Republic Elite Forces set that was part of the 30th anniversary collection in 2007. 
Also in the 30th Anniversary Collection was an all-white commando like the one that is now in Battlefront II. He only was released in a comic-pack. Surprisingly you can still find that one on eBay for about $40 if you're patient. Not a terrible price for 2 unique figures. I don't like his shoulders, though; they need more armor.
After that, we received a Republic Commando in the Legacy Collection (red) as part of an evolutions 3-pack. This is my personal favorite Commando we've gotten so far. Then, the Republic Commando Delta Squad was  re-released in the Shadows of the Dark Side line, this time with added knees. The most recent Clone Commando came as an animated style figure in The Phantom Menace 3D line. Commando Boss is a decent figure, but still is lacking jedi-level articulation (swivel thighs, rocker ankles, and ball-jointed wrists). While not perfect, I feel like this figure most captures the iconic Clone Commando armor.
With Clone Wars heading to Disney+ early 2020, I fully expect to see several figures from the show in The Vintage Collection and The Black Series. My number one most wanted figure from Clone Wars is Gregor. I hope Hasbro uses the return of The Clone Wars along with the addition of Clone Commandos in Battlefront II to generate an all-new Republic Commando figure. This figure needs Jedi-level articulation and multiple accessories (the rifles are configurable – we need at least a couple configurations and a removable backpack)!