With the excitement building for the release of Star Wars: The Rise of Skywalker, we see that New Zealand Mint has released poster coins for all the previous Star Wars movies. While some are sold out you can still get your hands on those available already for the sequel trilogy including this stunning coin for Star Wars The Last Jedi.
Click through for complete details.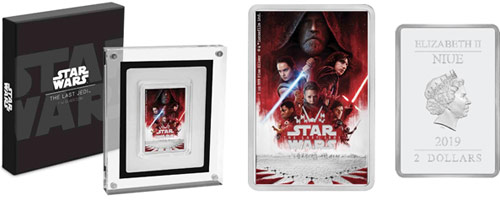 2019 POSTER COIN: STAR WARS: THE LAST JEDI – ORDER NOW!
The eighth film in the franchise tells the story of the Resistance's continuing battle against the First Order™. Released in December 2017, the film was full of all the action, adventure, intrigue and humor that makes each Star Wars film so memorable.
Minted from 1 oz of 99.9% pure silver, this unique rectangular coin replicates the original poster for Star Wars: The Last Jedi. The iconic characters and stunning planet of Crait™ are brought to life through brilliant color and engraving.
The coin is presented in an innovative perspex holder, which frames the coin and lets you display it easily. It comes with a unique Certificate of Authenticity that sits within the Star Wars-themed packaging. It's a must-have memento for any Star Wars fan or coin collector.
There are only 10,000 of these keepsake coins available to purchase worldwide. Get yours soon so you don't miss out on this piece of movie history!
And if you are keen to be one of the first to hear about other Star Wars precious metal releases from New Zealand Mint, you can find them on Facebook, Twitter or sign up here to get Star Wars coin news emailed directly to your inbox!
New Zealand Mint: adding genuine value to your Star Wars collection.