This last week was fantastic for toy running! I have a ton of photos to share with you. My father and I went to several collector shops in the Phoenix area over the weekend. There were tons of Star Wars toys to look at and some great deals to be had. Click here to see what I mean! 
My dad and I went to three collector's stores over the weekend: Toy Anxiety, The Toy Box, and Triforce Collectibles. We go on a big toy run trip usually once every few months because it's a far drive from where we live. It's a fun tradition we've started, though. I picked up a couple of figures and a grail piece for my collection this weekend. Those photos are at the bottom of the article, but first I wanted to share some photos from the stores and do a bit of a review of them.
First up was Toy Anxiety in North Phoenix. I read on Facebook that they just got a new lot of loose action figures in, so we headed there first to check it out. They had some amazing deals (like Legacy Captain Needa for $12 and comic Thrawn for $15), and if I had the cash, I would have bought a ton more. They are a smaller store, but they really pack the collectibles in there. They had some newer figures, too, for slightly above retail (common for collector stores). I traded in a couple figures and got decent trade credit. Would definitely recommend stopping by.
Next we went to a store we hadn't been to previously called The Toy Box. They probably had the largest selection of Star Wars toys among the stores we went to, but nothing in particular that tickled my fancy. If you want vintage, though, they had vintage. My 2 year old son was entertained by the buttons on the arcades in the store while me and my dad looked at the action figures! 
Lastly, we went to Triforce Collectibles. Their store started as a small back room in a larger collector store and has recently upgraded to their own shop. They have a decent selection of Star Wars figures, especially Black Series 6″, and get new stock in when it comes out. I had some more things to trade in, and got a great value for my trade in items. After looking around for a while, and much debating, I realized the only thing I really wanted badly was a Black Series Shock Trooper Helmet they had in the cabinet. That helmet has been a grail I've wanted for a long time. The store owner accepted my offer on the helmet, and with the trade in I had, I got a great deal on an incredibly sought after piece for my collection. Make sure you stop by their store if you get the chance!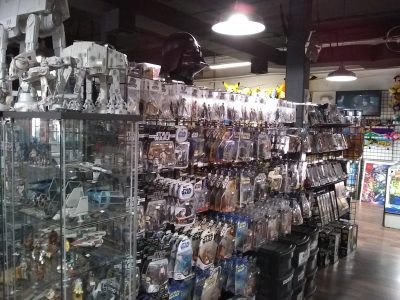 In the end, I walked away with the helmet, a Legacy Obi-Wan, and a Medical Frigate Leia (two much needed figures in my collection). Obviously, I had a pretty good week. How about you? Let's see your week in Star Wars in the comments!