JTA reader Idealistic Crusader found the former TARGET exclusive Han Solo (Stormtrooper) figure at a local independent discount store for $4 apiece. I imagine we'll be hearing and seeing more of these reports as time moves forward. Click through for more!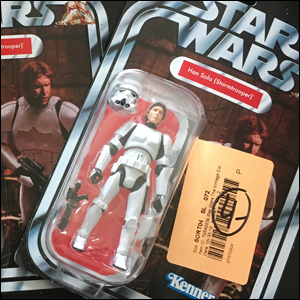 Hey Paul, IdealisticCrusader here,
I just got back from a trip to a local independent store that sells closeouts and returns from retail chains really cheap.
They had these dinged up Han Stormtroopers for $4 apiece. They also had a bunch of Skiff Landos, and some of those had packages so crushed that the figures might have been damaged. It appears that someone ordered them online but returned them due to the condition of the packaging.
It interesting that Target's and Walmart's shipping and packing is so bad that the stores would rather clear these returns out very cheaply than put such damaged items on their store shelves!
Anyways, it might be worth it for openers to look for local closeout stores.