Check it out! Witness what happened when something "synthetic" took on something from "nature." Special thanks to JTA reader Ben for sending over this image from a Reddit thread. I found it particularly interesting and thought it was worth sharing.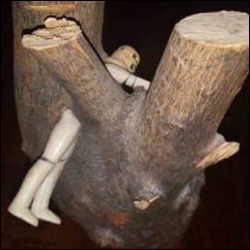 Hi Paul and JTA Crew, 
Was browsing Reddit this morning and saw this image posted on the Mildly Interesting subreddit. Amazing to see how nature reclaimed itself but still preserved the figure enough to be identifiable. 
This would make a phenomenal centerpiece for an apocalyptic post-Empire battlefield diorama!
Enjoy the weekend!
Ben