You may ask what Tom Hanks is doing on JTA. Well, Tom Hanks appeared on Jimmy Kimmel the other day and it was there that Tom Hanks talked about the very strict rules Disney have for their stars when they are promoting a movie (Toy Story 4 in Hanks' case). And it's interesting to see what rules there are. Disney is more or less providing pre-fabricated bullet points for the stars and even anticipate various questions asked by the press and tell their stars what to reply when they get asked these questions. And of course Disney also tell their stars what is not allowed to talk about at all. And this leads us to Star Wars. Click through to learn more!
Now Tom Hanks being Tom Hanks he has probably little to fear from Disney. And of course he didn't reveal all that much on Kimmel. But he did say that there are several things Disney don't want their stars to talk about. It's mostly concerning spoilers, so to not give away the plot, which makes sense.
Interesting is the paragraph about Bo Peep, this is what Tom Hanks is supposed to say when asked about Woody's reunion with Bo Peep:
Bo Peep should be described as a strong character from the beginning. Her recent experience perhaps made her stronger, but she was never a weak character.
For those of you unaware, Bo Peep underwent some changes for Toy Story 4. And it seems Disney is very concerned about describing Bo Peep as "strong".
So that's all about Tom Hanks. Now we can safely assume that Disney have these rules for all of their movies and that each of their stars gets a list like Tom Hanks when they are about to do the press junkets and media tour.
This leads us to two interesting tweets by John Boyega he made about two weeks ago, when fans on Twitter left some very critical remarks about Star Wars and Finn. Let me show you the screencaps here:
And the next one is perhaps even more interesting: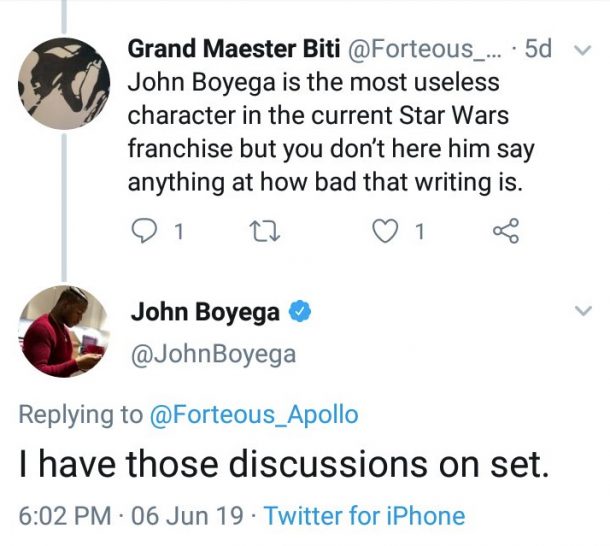 Apart from the fact that Grand Maester Biti mistakes a real person for his role in a movie, it's fascinating to see John Boyega actually replying here and outright saying that maybe, just maybe, he's not all that in love with how his character is written either and that there are discussions on set about the writing for Finn. Is John Boyega happy that his character is a space janitor and was used for jokes in TFA and somewhat lesser so in TLJ? We don't know. But at least we now know John is having discussions on set about the writing.
About the first tweet, in case you are one of the few who didn't follow Game of Thrones season 8: leading up to the final season several of its stars talked rather freely about their feelings, which some probably first assumed were jokes. Emilia Clarke freely talked about how she felt when she learned about her fate (she mimed vomiting into a bucket on camera) and also mugged "best season evaaaaarrrr" and could hardly contain her laughter when she was asked about what season 8 will be like, making it obvious she meant the opposite. Kit Harrington, when asked the same question, simply said with a straight face "terrible", only to elaborate on it after that and to retract his first statement somewhat. And Isaac Hempstead Wright (who portrayed Bran) freely admitted that at first he thought someone was trolling him when he read the script and considered it a joke script just written for him, when he learned he would become king.
Now it seems some Star Wars fans hope that once Episode IX is behind us the actors will speek more freely. It is obvious that while under contract no actor is really allowed to freely speek their mind, unless they want to get into trouble with Disney. When something as harmless as Toy Story 4 has these elaborate sets of rules what to talk about and what not to talk about at all and sometimes even telling the actors what to say when they are asked a specific question, we can safely assume that Star Wars has all of that as well, as well as any other major blockbuster, so it's not just Disney of course.
As said above Tom Hanks is Tom Hanks, he doesn't need Disney, even if he was never hired by them again, he has all the money he needs. So he can talk about some of it. But upcoming stars like John Boyega or Daisy Ridley certain don't have that standing in Hollywood. Now it remains to be seen if after the sequels are over John Boyega will actually disclose his true feelings, he certainly implied that there are true feelings he hasn't shared with us.
On top of that it would be very interesting to learn more about the production of Solo and Rogue One. There was so much going on behind the scenes that anyone willing to talk freely about any of that would certainly have many interesting things to share. Tony Gilroy talked a bit about Rogue One and the "terrible mess it was in", when he was hired, but nothing specific was ever talked about and Gareth Edwards most certainly never shared his true feelings about any of that.
I find it always fascinating to get a glimpse behind the curtain, to see how Hollywood works. Now while it's certainly no surprise that movie studios have all these rules for their stars, it's still very illuminating to learn what these rules actually include. So whenever you read or watch an interview with an actor supporting a movie, you know that movie studios sometimes even tell their actors what to reply, or what to base their reply on, when being asked about something. Sometimes you don't hear the actors speak, but the marketing department. In the case of Disney this is the "Disney Corporate Vertical Integration Marketing Division", according to Tom Hanks on Kimmel.
This also tells us that Mark Hamill was most likely in violation of some rules after The Last Jedi. And he freely admitted that he was contacted by Disney after the whole "Jake Skywalker" thing and Mark did retract some of his statements or at least put them in perspective. Only to reiterate them a while later. So it seems Mark doesn't care about any of that really. But then again, Mark Hamill is Mark Hamill, what is Disney going to do? Fire him? Mark is nearing the tail end of his career, he's well off, he has nothing to lose, people love him, whereas John Boyega or Daisy Ridley are only beginning their Hollywood careers.
So, do you think John Boyega will actually speak his mind once the media tour for TROS is over and tell fans what he really feels about the movies and Finn? Also, does it surprise you how many rules and instructions there are for actors who are on media tours for their current movie?