Wow. I am floored by this amazing set from Hole in the Ground Productions. Thanks to Scott M. for sending us some amazing images of the playset he received (as well as a couple from HITGP's Facebook page). You'll definitely want to check out these images after the jump!
The old POTF2 Detention Block playset is one of my favorites. It's one of the few things I have on display with my limited shelfspace, and has held up really well through the years. This… I mean… This just blows that set out of the water. As Scott shows us, you can literally recreate the entire detention block rescue scene from A New Hope. Click each image below to make it larger: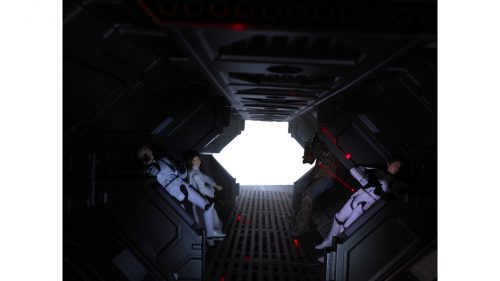 Now you're probably wondering…. how do I get my hands on this set? Currently it is only available to backers of the Indiegogo campaign that ended several months ago, but Eric has let fans know on his Facebook page that parts of the set will go up for order soon. I definitely recommend checking out the other diorama parts on his website. I've ordered some parts from him and can vouch for the quality of the pieces (see below).