What would Star Wars be without the space ships? The iconic Millennium Falcon, Star Destroyer, X-Wing, TIE-Fighter and of course the Death Star are all instantly recognizable and have become pop culture icons.
But what if you want to collect Star Wars space ships? Well, there are of course various Hasbro toys that focus on playability and are neither accurately proportioned nor collectibles in the true sense, and Hasbro mostly focuses on the smaller ships. Then there are the Hot Wheels ships, but these are tiny. There are also various model kits, but model kits are a niche and not everyone has the patience or skill to put together a kit and paint it. Both Bandai and Revell offer model kits, there are also various "snaptite" kits that are very, very easy to assemble and even come with some electronics and some pre-painted parts. But still, these are very, very basic and come with very little paint. And they are still model kits. So I think we may have some untapped potential here! Click through for some thoughts about a Star Wars space ship / vehicle toyline!
Diamond Select Toys have a great looking line of collectible space ships for Star Trek. These are not just fully painted (and some ships have a lot of details), but come with light and sound.
Let me show you the original Enterprise: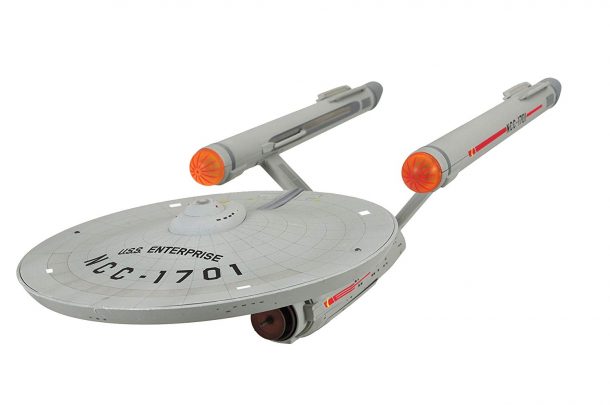 The ship lights up and then the Warp nacelles, bridge dome, navigational lights and sensor on the lower saucer all glow. You also get various dialogue snippets and sound effects.
The original Enterprise has a rather basic paint job (the model you see is already the HD version for the remastered episodes).
But then there is also the Enterprise-E: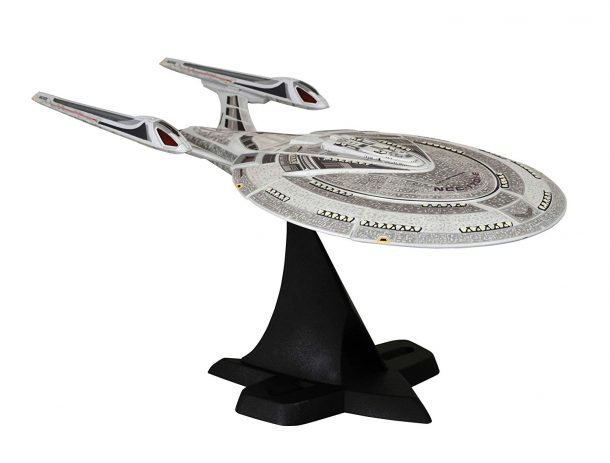 Click on the image to see all the details. The Aztec pattern on the hull is quite complex and DST pulled if off quite nicely!
I would love to have something similar for Star Wars. Fully assembled, fully painted space ships with lights and sounds. Especially the larger ships could look great. Imagine having a Star Destroyer, the Executor, the Death Star or Tantive IV on your shelf that rival DST's offerings for Star Trek. Or some of the smaller ships, like the Slave 1 and of course the most iconic ship of them all, the Millennium Falcon.
Now the question is: is there demand for something like that? Would you like to own a truly collectible line of Star Wars ships?
And who should do it? Hasbro? Or maybe Diamond Select? They acquired the Star Wars assets owned by Gentle Giant and maybe have a foot in the door now already. These ships would not hurt sales of Hasbro's toys, I believe, since they serve a very different purpose. So I think both the collectible ships and the toys could co-exist peacefully. And model kits should also still have their niche, since hobbyists like painting their models all by themselves and building a kit is very satisfying when it all comes together in the end. Also, the basic snaptite kits would still be an entry level offering for those who don't want to spend all that much money.
The Star Trek ships are about $60 but some of the older out of production ships go for a high premium on the aftermarket (up to several hundred USD). Since the Star Wars license is so expensive I would say that $80 or so is a more likely price for Star Wars ships. Would that be too much for you?
Would you love to own accurate looking representations of Star Wars space ships? Or is what Hasbro (or Bandai/Revell) offer good enough for you?
I think Disney should seriously consider a Star Wars space ship toyline that focuses not on play value but accuracy and give the license to either Hasbro or preferably Diamond Select, who already know how to do these things. But the release schedule should be much quicker for Star Wars than for Star Trek. We get a new Star Trek ship every couple of years maybe, I would say that one new Star Wars ship each quarter is doable.
So, what are your throughts here? Good idea? Bad idea?