Other collectors and I are quite ecstatic over the potential the Retro Collection can bring to Star Wars collecting. Hasbro is smartly starting with the vintage Kenner 12-Backs as TARGET exclusives (coming May 12th by the way and not a day sooner). And the Grand Moff Tarkin is nearly a dream come true. (more….)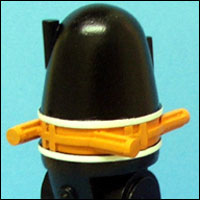 So, it got me thinking about how far Hasbro can take this line, and I quickly brainstormed a handful of figures I'd love to see added into the Retro Collection. R1-G4 and Yarna d'al' Gargan were both planned but canceled for the Kenner line. I'd love to see super-articulated (or collector) versions of these characters in The Vintage Collection of course, but I'd love to see simple versions of them in the Retro Collection line to fill those voids.
I'd also love to see Hasbro redo the vinyl-caped Jawa and see Blue Snaggletooth carded for the very first time. Creatively, I'd like to see official Hasbro versions of a vintage Kenner styled Sandtrooper and Rebel Fleet Trooper as well. Additionally, I would love to see Hasbro reissue some of the harder to find Droids figures like Sise Fromm and Tig Fromm. And of course, I'd love to see Vlix finally. But I would also love to see Boba Fett done in the animated colors and some other never before made characters from the classic Droids, and Ewoks television shows too.
The Retro Collection has GREAT potential. I hope Hasbro takes full advantage of us with it.
Who do you want to see reintroduced in this line? Do you want them all? (Collect All 92!)