Without a doubt, the best The Vintage Collection reveal for me is the convention exclusive Luke Skywalker three-pack. This set is the treatment the greatest hero of the Star Wars saga deserves. But I can't help but think one way this set could have been improved. (more….)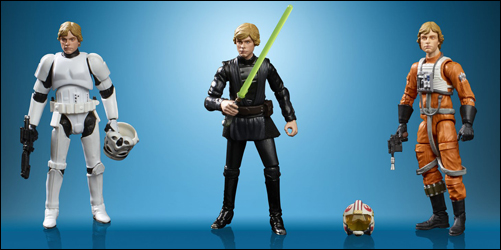 HASBRO – WHY DID YOU ADD LUKE SKYWALKER (JEDI KNIGHT OUTFIT) INSTEAD OF LUKE SKYWALKER (ANH – FARMBOY)?
OK, now that I got that out, let's discuss this like rational adults. The last decent version of A New Hope Luke Skywalker we received came in the form of 2009's Legacy Collection Resurgence Of The Jedi Battle Packs set. At the time, it was an admirable version of Luke Skywalker but has since aged and become obsolete. The last time we saw Luke Skywalker in vintage Kenner-inspired packaging was in 2011 when they released a scene-specific version of him as Luke Skywalker (Death Star Escape) (VC39). And before that, the modern counterpart was 2004's VOTC Luke Skywalker figure. As you can see, the new tooling of this character is desperately needed.
Our friend Lando Griffin discovered that the Luke Skywalker (X-wing Pilot) figure from this set is coming single-carded in The Vintage Collection and that's wonderful. But we still need ANH Luke more.
Or, is there a reason behind this. With all of the Retro Collection focus and 12-Back focus the modern Star Wars line is receiving, could we finally be getting a 12-Back update to 1978's Star Wars Luke Skywalker figure? (As well as others?) Well, my gut thinks it's a great possibility! What a great way to focus on Luke Skywalker this year!